The Work: Practice 6 recap and quotes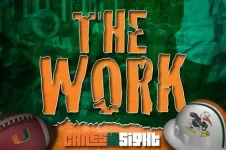 **The first practice of the day ended a bit early and Mark Rich was not available to the media following practice. Miami has another practice this afternoon that will not be open to media viewing. Tomorrow is the team's first scrimmage of fall camp.
Although we did not get to speak with Richt, offensive players Standish Dobard and Gus Edwards both said that their side of the ball beat the defense on Tuesday morning. Richt had said that the defense won each of the last two days prior to today.
"I think we won today. We got them," said Dobard. "It felt good because they've been getting us all camp. We just competed better and finished better."
"The offense fought hard in practice. The offense did a good job today. I really don't know how they keep the points, but I know we won today," said running back Gus Edwards.
**I got the chance to speak with tight ends David Njoku, Standish Dobard, and Chris Herndon and confidence in this group seems to be sky-high. I asked about their position coach Todd Hartley, who is one of the more animated coaches during practice.
"Coach Hartley is a very intense coach. He coaches us very hard. He loves us up, but when it's time to work, you gotta go to work. I personally think he's a great guy and a great coach," Njoku said.
"He's a real cool guy – he's tough at times, but he likes to joke around a lot. When it's time to work, it's time to work – so we like him," Dobard said.
Njoku said he was timed running a 4.49 40-yard dash last time he was tested. Standish Dobard also credited Njoku as having improved as a blocker.
"He's a freak. He can do a lot of things well and he's becoming a great blocker now. He's becoming an all-around, complete tight end now," Dobard said.
The redshirt sophomore Njoku is looking to build on his success of last season. He knows that his position group will be featured in the Richt offense.
"I think with our athletes, we're going to have a pretty big role," he said. "I always say this, but Stan is the leader, Chris is the do-it-all, and I have a little speed on me."
**Adrian Colbert, who has instantly become one of the most important players on Miami's roster, went in detail about moving from safety to corner.
"It's been much smoother (than he thought). I played a little bit of corner at the end of my career in Texas, just practice wise. It was tough, but there was a lot of natural ability too. I'm just getting used to it here and working with Coach Rumph has improved my game," said Colbert.
The lengthy cornerback had high praise for his position coach Mike Rumph. When asked about Rumph's career at Miami, Colbert muttered, "he was an All-American, man" to himself.
"He's helped me tremendously. He's brought my game from like right here – where I thought it would be – to there. He's a great coach," said Colbert.
Colbert on the freshmen linebackers: "They don't look young – that's for sure."
**Gus Edwards came to the group of reporters after practice and he appeared to be short of breath. Between huffs and puffs, he explained that the running backs group stayed a bit after practice ended to get some extra conditioning work in with offensive coordinator/running backs coach Thomas Brown.
Add him to the never-ending list of players who made physical progress in the offseason. Miami's running back said that he is down to 230 pounds on 9% body fat, and says he feels a difference in his speed.
"I feel a lot better than I did in the spring. I'm a lot more comfortable and I'm at 100%," said Edwards. ""I feel like I'm in better shape now."
Does Gus need to get acclimated to being hit again after missing all of last season?
"If I go against those guys on defense every day, I think that will prepare me," said Edwards.
Edwards on which linebacker is sticking out: "Shaquille Quarterman. He's in the backfield a lot. He's like the quarterback of the defense as far as I see it. I see him calling a lot of things – he's very vocal out there."
Gus Edwards on Travis Homer: "Travis is a hard-worker. He's taking everything he's learning real fast," said Edwards. "If he has questions, he speaks up. He's adding a lot of depth to the backfield."
**The first scrimmage is tomorrow.