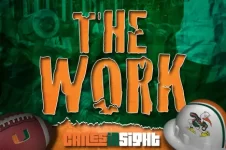 **Former St. Thomas Aquinas WR Corey Holmes recently announced that he was transferring from Notre Dame and naturally he has already been linked to a possible transfer to Miami due to the home ties. I asked a Canes source about the possibility of adding Holmes to the program to which he responded, "there's nothing to it right now". The Miami staff is however aware of the situation and I expect for them to track it closely. I reached out to Holmes and he acknowledged that Miami is a school that he is very open to. Why is Holmes an attractive potential option for the Canes? Not only is he eligible right away because he is graduating over the summer, but he will have two years of eligibility because he redshirted in his second year. Holmes had 11 receptions for 96 yards this season. The previous Miami staff did not recruit Holmes very hard out of high school during the 2013 recruiting cycle.
**With David Njoku likely headed to the NFL, Jovani Haskins' status up in the air, and Tre' McKitty choosing Florida State this week, is Miami content with only Brian Polendey at tight end?
Well, if Haskins was not in the doghouse, I'm told the coaches would feel comfortable with Polendey as the lone tight end in the class. The news here is that the Hurricanes have quietly been working on one of the nation's top tight ends, Josh Falo. A source said that Falo (from Sacramento, California) "has expressed continued interest" and added, "we'll see how far we can take that".
Looking a bit deeper, he is from the same area as Canes DE commit D.J. Johnson. Johnson told me he has been recruiting Falo hard and that he's trying to get him to visit on January 13th with him. If Miami gets him on campus, don't count them out.
[HUDL]video/3/3063565/57f2c312842eb2293c1059fb[/HUDL]
Note
: USC commit and fellow Cali product Hunter Echols might be visiting Miami on that same weekend.
**I had mentioned a couple times recently that a late run at Southridge TE Kemore Gamble was a slight possibility, but Miami's attention seems to be focused on Falo. A Southridge source reiterated this morning that Gamble would have stuck with his Canes commitment, but Miami coaches stopped recruiting him. He enrolls at UF in about two weeks.
**Miami is holding firm in their stance that they will not settle at the receiver position. "We aren't taking anyone that's just average," a source said. West Virginia commit Mike Harley is still a likely flip to the Canes and the staff views Evidence Njoku purely as a receiver, not as a developmental tight end.
I also asked on Jeff Thomas, who Ron Dugans followed on Twitter yesterday and there is nothing to track there as Thomas is not a qualifier for Miami.
Devonta Smith will visit in January but that is a long shot.
They clearly need at least one more receiver on top of getting Harley on board, so we will see where they turn for help. It's why I think Holmes could be a viable option.
**My money is on Coach Kool adding another commitment to his group. He has what he wants on the edge in Johnson and Jonathan Garvin, but he continues to focus in on Elijah Conliffe of Hampton, Virginia and that recruitment is trending in Miami's direction. Kuligowski hopes for Conliffe to join Jon Ford as defensive tackles in the class Alabama has been a long rumored destination for Conliffe, but he does not look like a priority for the Crimson Tide and he hasn't set a visit there. He will be in Coral Gables immediately following the dead period for his official visit on January 13th weekend.
**You can take Dillard's Jordan Wright off the board for Miami -- if he was ever truly on it. The Canes have made their mind up and he will not be a take, as was expected.
**An early recruiting pitch that Miami used to lure Deejay Dallas to the class was coaches selling him on the chance to play multiple positions, including both sides of the ball and a quarterback package and that still appears to be the case. Nothing is off the table for Dallas and sources said that he will test out at both receiver and defensive back in the spring. "Wild Deejay" will definitely be something to keep an eye out for.
**One of Jhavonte Dean's family members said last night that the Canes coaches are putting a major full court press on the junior college product as Miami looks to bring him in as a plug and play cornerback. This person told me that Miami has a good shot of landing Dean, but that it would have been a "no brainer" for him had the Canes recruited him over the summer and he might not have even committed to 'Bama in the first place. Coach Banda and Rumph had some contact with Dean over the summer but it was only now in the beginning on December when Miami coaches turned up the heat, including two in-person visits from Manny Diaz and Banda. He visits Miami on January 13th in what is shaping up to be a massive weekend.