WR Dingle excited about family atmosphere at Miami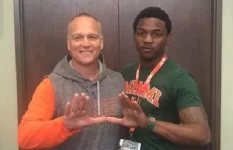 Miami is making a concerted effort to stay as local as possible at the skill positions going forward. One of the South Florida playmakers that Canes fans are excited about is 2017 Carol City wide receiver Kevaughn Dingle (6-1,185). The big-bodied wide out is not shy when describing his abilities on the field.
"My playing style is swag, physical, and aggressive. I call myself 'Up Top' because I like to go get it. Anything in the air is mine, so that's how I think of it," Dingle explained.
There is a buzz around the Carol City Chiefs this spring, as a revamped defensive coaching staff has upped the intensity at practice, according to Dingle.
"Spring is going great. It's good competition and the tempo is great," said Dingle, who is excited about the team's new defensive coordinator Damon Cogdell, who was the architect of the great Miramar teams of recent years.
"He's bringing his staff over and it has been tremendous. They're putting all their stuff in and I think it's the missing piece, so it's coming all together for us."
Dingle's future position coach at Miami has quickly become more than simply a recruiter for him.
"I love Coach Dugans. He always tells me that he doesn't just want to be a coach, but a mentor too. He wants to talk to me not only from a coach point-of-view, but from a father's standpoint too," said Dingle. "One thing about him is that he always keeps it real."
Dugans was not the only coach who has made Dingle feel welcomed to the Hurricanes family; Mark Richt has made an impact as well.
"Coach Richt has a nice vibe too. He was so happy and thankful when I committed, that he thanked my family. He looks out for your family, not just you, and that's what I like most about him," said Dingle. "My family was very excited about the commitment and that I'll be able to stay in my home town. "
One of Dingle's closest friends also happens to be a target at linebacker for Miami, and the physical receiver Dingle is in his ear.
"I'm staying in DeAndre Wilder's head because we need him on board. He might wait for his commitment until the end of his senior year."
Something that has given Dingle a lot of confidence in his commitment to the Canes is the health of the quarterback position.
"I'm very excited about the quarterbacks. After Kaaya, I know they got Allison and Perry in my class, so I don't have to worry about that position at all."
Highlights:
8Ball Junior Season - Kevaughn Dingle highlights - Hudl