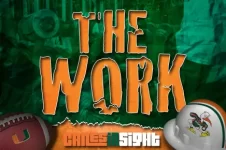 **With fall camp starting up this week, here are some things you should not be surprised to see this season:
--Gus Edwards goes for 1,000 yards. I don't buy into Greentree hype easily, but this is his year. Fastest running back on the roster. Coaches believe the switch finally flipped for him.
--Rashawn Scott puts up better numbers than Phillip Dorsett last year. Dorsett went for 36 receptions, 871 yards, and 10 TDs in his senior year and some Canes fans wished he had been targeted more. I can see Scott catching 50 passes this year and going for 900 yards and 10 touchdowns. Although Scott is not the same sort of deep threat that Dorsett was, he will be Brad Kaaya's guy when the going gets tough. Look for him to be a 3rd down machine.
--Chris Herndon becomes a pivotal part of the offense. Herndon can block, catch, and run. James Coley will have the ability to flex him out wide or use him in the backfield as a blocker. X-factor
--Joe Brown becomes a big part of the offensive line rotation. We all know how Art Kehoe loves his rotations, and with all the questions on the line, I see Brown as a darkhorse to snatch up a lot of playing time. Brown is a kid who the Miami staff caught some flak for offering, but he has developed nicely and showed ability during the spring.
--Corn Elder emerges as Miami's best cornerback. Although Artie Burns is the best pro prospect at corner on this team, Elder is ready to shine. He is healthy and the loss of Antonio Crawford leads to him being thrown into the spotlight. More reps will equal more plays.
--Freshman QB Evan Shirreffs catches very positive buzz throughout camp and presumably as a practice squad quarterback. James Coley's ability to find quarterbacks has been well documented and Shirreffs is a guy with nice film, throws a beautiful ball, and has already received good reviews as far as work ethic.
--All black uniforms
**Here is a look at some new cleats for the Canes. Icy: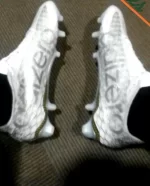 **I stopped by Columbus last night for their opening practice of fall and I continue to be impressed with the potential of their team this year. That potential Flanagan matchup in the playoffs once again is extremely intriguing.
--The Explorers are led defensively by what could be one of the most devastating pass-rush tandems in the entire country. Miami commit Josh Uche and 2017 DE/OLB Guy Thomas (little brother of Matthew Thomas) are both lengthy, explosive bodies who are still growing into their frame. Defensive Line coach Pedro Marti wants to make sure those guys are bringing it on every snap.
--Uche came up to me earlier in the day when I was on campus to tell me that he already sees Canes fans worried about his commitment, but that he is completely solid. He received offers from Florida and Alabama over the last two weeks. From talking to people around the Columbus program, they agree that Uche will stick. His family is big on academics and Miami has done a good job selling him on that.
--The defensive backfield is special too and will give defense coordinator Alex Trujillo a lot of flexibility to send pressure. 2018 Miami commit Joshua "Woogie" Jobe can play either corner or safety with his size. 2017 CB Trajan Bandy can be on an island and is a huge weapon covering slot receivers. 2017 CB Marlin Brooks (son of Nate Brooks) is smooth. Good luck throwing on these guys this season.
--Offensively, I really like what I see from senior QB Alex Ros. Ros brings some athleticism to the quarterback spot for the Explorers and can really extend the play with his feet. Watch for him to be a breakout star in South Florida this season.