The Work: Practice 7 recap and quotes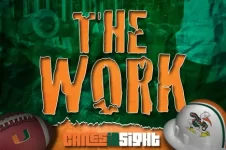 **Projected starting defensive end Al-quadin Muhammad missed practice today for what Mark Richt called "personal reasons". Richt also said that he expects Muhammad to be at practice tomorrow.
Muhammad has been a part of UM's internal probe of multiple players who are linked with an exotic car rental dealership.
Richt was asked if he believes the situation is any closer to coming to an end and he responded, "I think so."
**In Richt's opening comments after practice today, he said that the offense had finished their "second-to-last" installation. He added that tomorrow's practice will most likely focus on short-yardage situations and red zone work. Richt said there will be a day for the "1-minute drill" and "4-minute offense drill".
**Richt said that the "defense won the day". He said there were a couple of turnovers at the end of the practice that turned it the defense's way.
"The depth chart that will start to be meaningful is when we do that practice game during that third scrimmage. That's when we will be declaring – this guy's number one and this guy's number two," Richt said.
**After reviewing scrimmage film, Richt said that he was impressed by "the vision of the swarm on defense" and is pleased with "the speed that everybody is playing with".
**Manny Diaz spoke on the perceived youth of his defense, which as he explained, is not something that he change. Diaz said, "we don't have freshman, sophomores, and all that" because "we don't have that luxury".
"The minute that this coaching staff walked got here in January, they've all had the same number of at-bats," he said. "It's a unique situation for freshmen to come into because everyone is on equal ground."
"It proves that it's not a recruiting spiel. You can come in and if you earn playing time, you get playing time. That's how it works," Diaz said.
**Freshman Cedrick Wright participated I his first career practice as a Miami Hurricane today after waiting to be academically cleared. Per NCAA rules, Wright is not allowed to practice with shoulder pads for the first five days of his camp.
"He just got his feet wet," said Richt. "I did hear Coach Banda tell him that he wants him to learn how to practice. He's talking about effort."
"Coach Banda will meet with him one-on-one," Manny Diaz said. "We'll put an earplug is his opposite ear so what goes in here doesn't leak out (laughs)."
Miami's coach also said that freshman receiver Dionte Mullins is "still working" to qualify, but that "we plan on him being here."
**Richt mentioned that he is feeling more confident about the depth at offensive line, as long as Sonny Odogwu remains healthy.
"Sonny looks very good. I guess that's one little bit of news. He looks healthy and he looks quick. He's energized," said Richt.
**Trent Harris had a successful scrimmage yesterday with two sacks. He discussed the defensive line's performance, which was highlighted by nine sacks.
"We got a lot of quarterback pressures. Guys were making sacrifices for each other," said Harris. "We were just getting off the ball and up the field."
Harris was working with the first team today in Muhammad's absence.
Harris on what Coach Kuligowski has taught him: "He gives us a lot of confidence in our speed rushing and tells us to take advantage of it, so that's helping me out a lot."
Diaz on Harris: "People like Trent Harris are always going to have a role in football because he's smart, he's tough, and he's relentless."
**Defensive coordinator Manny Diaz pointed out defensive end Demetrius Jackson as someone who has made tremendous progress in the weight room since the spring.
Diaz said that Jackson is playing "more stoutly" in fall camp than in spring.
"I had it mentally, but I had to let my body grow," said Jackson.
Jackson has played with teammate Chad Thomas since high school and he explained how Thomas has changed from his time at Booker T. Washington high school.
"He's more vocal. He's more of a leader, and he's stronger," he said. Jackson says he sees more effort from Thomas in practice as well.
Defensive line coach Craig Kuligowski has been working on a move with Demetrius Jackson that he calls the "stab-club-rip". Jackson says the he is able to use his hands a lot better than last year because Kuligowski is "bringing more skill to the game" for the players.
**The battle behind Jermaine Grace, who was at practice today for the first portion but missed the second half, is between Zach McCloud and Charles Perry.
"They both kind of do good and bad. I'd say McCloud edges him for a couple different reason," Diaz said. The defensive coordinator also said he looks for football players who are tough and flies to the ball. "Zach is a little bit ahead of Charles in that regard."
**Diaz maintained that R.J. McIntosh and Kendrick Norton are, "still playing at a really high level".