The Work: Fallout from AQM & Grace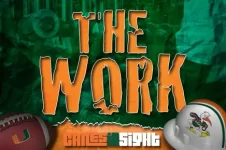 **The Hurricanes received brutal news yesterday when Al-quadin Muhammad and Jermaine Grace were permanently dismissed from the program. The loss of Grace is especially devastating considering Miami's lack of experience at linebacker. This was the final chapter of a troubled Miami career for Muhammad, who also missed an entire season after an altercation with his roommate. A few things to note in the fallout…
1) Make no doubt about it that both Grace and Muhammad made punishable mistakes by NCAA rules, but this was an example of compliance going out of their way protect the school from becoming implicated while still on probation. Miami used outside counsel with no ties to the players or school who suggested that the administration take the action of removing the two players from the program. If Miami was not still on probation until October 21st, there's speculation that we might have just seen these guys ruled ineligible, suspended a few games, and forced to pay back the improper benefits – but there was no chance that the school wanted to get themselves in more hot water with the NCAA. My question continues to be why did it take so long for this to get figured out? Coaches did not know the verdict until late Thursday. It's hard to know how aggressive the investigation was from the start, but I don't understand how something the school has known about for months is not resolved until a week before the season.
2) Stacy Coley, who was also being investigated for his involvement in the luxury car rental situation, will remain with the program according to multiple sources. A suspension is still a possibility, but his ties were apparently not as strong as the other two. Quite frankly, Coley would have been the most severe loss of the three because there is nobody on the offensive side of the ball who can replicate what he brings.
3) What does this mean on the field? As it stood, Miami was already planning to use a nickel-base defense this season against spread heavy teams – the coaches had alluded to it a few times during fall camp. This means that the Canes will probably be running out two linebacker sets for a majority of the snaps in some games and that should help just a bit, although depth at linebacker is still not ideal. The emergence of Adrian Colbert on the outside will allow Corn Elder to get a lot of snaps at slot corner. Sheldrick Redwine fits the bill as the other boundary corner. Miami also loves to use JaQuan Johnson in the nickel, and he could wind up being one of the most crucial players on the defense this season.
4) The freshmen linebackers will all be relied upon. Shaq Quarterman and Mike Pinckney are ready to be impact players as long as they are healthy. Zach McCloud really came on late in camp. Jamie Gordinier will also be on the field a lot and Charles Perry may be asked to play a larger role than we had anticipated.
5) Muhammad is a loss from a talent standpoint and you never want to lose guys with the pass rush potential that he has – but AQM had yet to truly show what he had. To his defense, he was much better served with this scheme and coaching, but it's not like Miami is losing a sure fire top-3 round draft pick. Chad Thomas, Demetrius Jackson, Trent Harris, and Joseph Jackson is a uniquely talented group, and the talent inside is crucial as well.