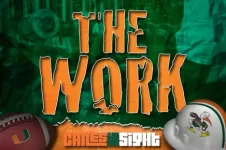 **Day 3 of fall camp marked the first day of shells. Only the first 15 minutes of practice were open to media, so I was not able to catch as much action as yesterday, but here is everything you need to know about what went on...
**Defensive backs Ryan Mayes and JaQuan Johnson were in non-contact red jerseys for the 3rd straight day and Golden calls them "day-to-day". Mayes is dealing with a hamstring issue and Johnson with a bone bruise. Both are considered minor issues. "They're close…and they're both in good shape," added Golden.
**Golden was asked if he could get a sense of how well this team could tackle.
"I think it's a team that's bending really well. They're trying to do the little things when we're not in pads, which you can really develop bad habits. They've made a commitment to that and when they're consistent with that you can give them more trust and not bang them as much. We're tackling a lot in compartmentalized situations so we are safe, but the tackling is not where it needs to be right now," he said.
**Golden on Darrion Owens:
"He's big. He's 240 now and strong. He has great output and really works hard. Relentless player."
**Golden says that Trevor Darling has looked "better" at Left Tackle.
"He's leaner. We have to challenge him to stay lean and stay quick. He's stronger obviously than he was a year ago. He played a lot of football for us and sometimes we glance over that, but he was a starter and he returns for us…there's a good competition between him and Kc," said Golden.
**Depth at safety is something that I touched on yesterday with Paul Williams, and Golden alluded to it today as well.
"Rayshawn (Jenkins) makes a big difference with his health, his explosion, his range. He's so much more mature than he was a year ago. I'm really proud of him. I can't say enough about Dallas (Crawford) as a leader. Deon (Bush) is the most experienced. Jamal, Quan…it's a good group and they communicate well, they're tight."
**When asked if there's any chance Gerald Willis becomes eligible to play this season, Golden said, "I don't think so. We are not counting on that. Just trying to get him indoctrinated and inclimated with what we want to do and how we want to do it."
**Golden was also asked if there would be any more transfers in on the defensive line, and he responded, "I don't know. Anything is possible, but I don't think we are in the market there. We are pretty locked in there to be honest with you."
--That was most likely in reference to the rumor of Florida transfer Jay-nard Bostwick possible coming to Miami.
**Much has been made about Stacy Coley's disappointing sophomore season, but it appears as though he has put that behind him. With a renewed work ethic, Coley is now weighing 195 pounds. The junior wide out said that he played last season at 180-183 pounds.
--"I feel like I'm still at 180, but I feel a lot stronger and I can knock the DBs around a little bit," added Coley.
--One of the major differences for Coley and the receivers group this season compared to last is the amount of work they have put in with Brad Kaaya while the coaches aren't around.
"We did a lot. Ever since summer one started, we've been throwing with Brad doing 7-on-7s and 1-on-1s with the cornerbacks and doing routes. We try to take pride in that and do it consistently with Brad," Coley said.
--Coley said that he is still going to be involved in the return game this season and hopes that the added weight helps with it. He added that Joe Yearby, Artie Burns, Braxton Berrios, Malcolm Lewis, and Herb Waters are also in the mix as returners.
**Looking at the linebackers group, Golden spoke about the leadership role that senior Raphael Kirby has taken.
"Kirby is the best at communication and preparation. I know we are in college, but he's a pro. He's a super vet. He's a guy that does what champions do and he's got to elevate everybody around him. He has help bring Grace a long way."
--Jermaine Grace looks to have a big season, where he is up to 215 pounds and hopes to be at 220 for the season. Golden is pleased with Grace's growth in the film room.
"He has really made a commitment to that side of the game and the smarter, more disciplined side. He was already tough, but I'm really proud of him. Great young man," said Golden.
--Raphael Kirby is not the only backer taking a step in the right direction in terms of leadership. Junior Jermaine Grace is excited for his chance to shine.
"Last year I did a great job, and this year I'm going to do an even better job of leading the younger guys to be able to take my spot whenever I leave," added Grace.
--As far as his increased weight, Grace knows it will only help him as a player.
"It feels great being able to take on blocks and move faster even though I'm bigger and being able to shuffle at this weight and do some things I wasn't able to do last year is great for me."
**Talking about the tight ends group, Golden seems confident saying, "We lost a great one (Walford), but we might be a better group."
--Golden likened the position to "Noah's Ark" and said, "We have two of everything now. Two Ys, two Hs, two move guys, two guys you can flex. With Chris and David doing what they're doing and Jerome (Washington) has made the biggest jump with his quickness, his body control, and things slowing down for him. Jake (O'Donnell) has been having a great camp so far. I am really pleased with what he's doing."
**Junior interior offensive lineman Danny Isidora seems poised to have a breakout year as a leader of a young line.
"I like the guys that we have now. We are going to be really good. We're just working to get better individually and as a unit," said Isidora.
--Isidora singled out Tyree St. Louis, Tyler Gauthier, and Hayden Mahoney as young linemen who have impressed him.
--Isidora said that he practiced as a Right Tackle at times during the spring, but that he has not been asked to do that just yet through the first three days of fall practice.
**Kendrick Norton and RJ McIntosh have been two early bright spots from camp. Senior defensive tackle Calvin Heurtelou agrees.
"As a newcomer, Kendrick (Norton) looks really good. He's really explosive and quick and he's picking things up quickly. McIntosh as well."
--Heurtelou noted that Courtel Jenkins has made strides since last season.
"I've seen him mature mentally and physically as well. He has become a better student of the game as far as watching film and different disguises, techniques, and blocks," added Heurtelou.
**The junior college product Heurtelou also sees a difference in himself.
"Last year I was more sitting back and learning. Now I've picked it up from what guys taught me in the past and I'm applying."
--Heurtelou pointed out Danny Isidora and Nick Linder as offensive linemen who have been dominant.
Here are a few notes and quotes from yesterday…
**One of the more interesting moves of the spring was sophomore Marques Gayot transitioning from the safety spot to the weakside linebacker position. Gayot's switch could bring some speed to the LB spot. He explained the decision.
"I just felt like my body was getting bigger. I was gaining weight fast and one of our WILL linebackers left to go to the league (Thurston Armbrister) so I felt should move down and help the linebacker core out."
The Park Vista Community HS product was more than willing to make the change, which has been something he says was coming for some time.
"My high school coach always told me that I was going to end up playing linebacker when I got to the next level, and it was actually my decision to tell Coach Golden to move me down," said Gayot.
--Gayot added that his goal weight for the season is 220 pounds. He is currently at 218.
**Sophomore DE Trent Harris is up in weight to 245, about 15 pounds heavier than he played last season. Harris credits the culture in the weight room.
"We have rankings in the weight room and everybody wants to be top 3 so we all push each other. Everybody holds each other accountable," he said.
--Harris feels like the mentality of this year's group is different from last year.
"We've been getting off the ball a lot more aggressively, just trying to get at the quarterback."
--Harris on freshmen Kendrick Norton and RJ McIntosh: 'They are great players talent-wise. Really they have to stay in their books because that's the key to our defense, doing your job and being in the right gap."
**DT Mike Wyche made headlines last season during fall camp with is confident tone in interviews. This season, the mammoth lineman says he has made an adjustment.
"I don't really want to talk about things anymore. I just want to go out there and get back to the player that I was," said Wyche.
--Wyche credits "hooping" (playing basketball) as one of the reasons for his offseason weight loss.
Some pictures from today –
Braxton Berrios:
https://instagram.com/p/6HzGB-yHDi/?taken-by=canes_in_sight
Lawrence Cager:
https://instagram.com/p/6H0S7wSHF7/?taken-by=canes_in_sight
Evan Shirrefs:
https://instagram.com/p/6H3HMdyHL2/?taken-by=canes_in_sight
Stacy Coley:
https://instagram.com/p/6IHte1SHNU/?taken-by=canes_in_sight