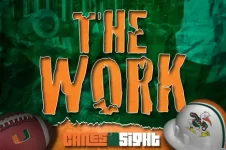 **Miami hosted a trio of high priority visitors on campus today with Chris Henderson, Trajan Bandy, and Brian Edwards and I'm told it was a tremendous visit all around. First off, there is nothing to worry about with Henderson. Over the past couple months, there were some rumors that Henderson was looking around but he is solid as can be. He is a catalyst for this class right now. As I mentioned over the weekend, it is only a matter of time with Bandy. Canes just need to continue to chip away there. A source told me that Edwards is down to Syracuse and Miami and the Canes hold a large lead. He was scheduled to attend Kentucky's satellite camp at FAU today but he cancelled to visit campus for the second time in five days.
**This staff will continue to get south Florida recruits on campus as often as possible. This will be a weekly occurrence and don't expect for it to slow down when the season comes around. One thing this staff is emphasizing is getting recruits around guys on the team as much as possible to get them comfortable with the surroundings and make them feel welcomed. There were numerous occasions during the Golden era that we heard of players on the team bashing the staff to recruits, but that is far from an issue with Richt's staff.
**Looking at a few team-related things…
1) The defensive staff has tremendous confidence is the defensive line and the possible production from that group. They believe that top ten production is a realistic goal for D-Line. A slimmed down Courtel Jenkins will be vital to the defensive tackle group, but the coaches are most excited about the development of R.J. McIntosh and Kendrick Norton. Anthony Moten and Gerald Willis could have breakout years as well, but look for Willis to play both end and tackle. The coaches believe that this is an elite group of talent – so much so, that defensive tackle is not a position they are heavily targeting in this cycle. They are happy with Dillard's Jon Ford.
2) Everyone that I've spoken to within the program about Mark Walton's status has been tight-lipped, but from the day the news broke about his DUI charge, I was told to expect a 2-3 game suspension. Although there is talk all over social media about whether or not Walton impersonated an officer, that is not what he is being charged with. He is going to court for his DUI incident and that is what he would get punished for. He is working out with the team and in school so anything more than a suspension would be unforeseen.
3) A freshman who most expect to make a major impact this season is Ahmmon Richards due to Miami's lack of top end speed at receiver. During summer, there are player organized 7-on-7 sessions and quarterbacks go out with the skill guys for field work. A source who has been present told me "Ahmmon looks fast…very fast" and expects him to get involved early.
4) For all the talk about the concerns at cornerback, one group that coaches have high hopes for is the safeties. One guy in particular who defensive coordinator Manny Diaz and safeties coach Ephraim Banda are really excited about is Rayshawn Jenkins. They think he is a guy who can play as a centerfielder or match him up against bigger receivers or tight ends. Jenkins will come into this season in the best shape of his Miami career and most importantly, he's healthy. A three safety look of Jamal Carter, JaQuan Johnson, and Rayshawn Jenkins will be a familiar sight to Canes fans this season.