Richt discusses freshmen Donaldson, Garvin, and Dallas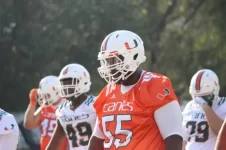 Mark Richt addressed the media on the third day of spring practice. He opened the media session by saying he would not be answering quarterback questions since QB coach Jon Richt was available to the media as well.
It was Miami's first full day in pads and Richt was asked how he thought the team held up.
"Good. Very good. I was very pleased," Richt said. We try to take pride in how we practice as far as our energy level and hustle and things like that."
Richt was asked about the cornerbacks group that will get an influx of help in the fall.
"They're developing. They're getting a ton of reps. We're working three units, so everybody's getting reps and it's part of the reason why practice is a little bit sloppy because we're getting 100 guys repetitions. That's why spring ball is so valuable," he added.
Richt expressed his concern about depth at the running back position, but maintained his belief in Mark Walton.
"We are dangerously thin at the position. If one guy got hurt, we'd really be in trouble at this moment. We're still hopefully trying to get some more help at that position before fall camp," Richt said.
"Mark is a machine. Mark loves football, he loves to compete, he loves to do things right. If you just watch him practice as either a coach, player, or fan, you'd love it because that's how he is every day."
In the video below, Mark Richt illustrates one play where freshman right tackle Navaughn Donaldson made an impact in practice.
[TWEET]845669721039089664[/TWEET]
On the other side of the trenches, freshman defensive end Jonathan Garvin caught Richt's eye even before spring ball started.
"I'd peek out the window of my office into the weight room and I'd see some lifts that are very impressive for a real long and thin kid that you know is going to grow so much more. He's got a natural strength about him for a relatively thin and long guy. Certain lifts are built for shorter people but he's got some power to him," Richt said.
For the second time this spring, Richt said he was impressed with Deejay Dallas's ability to snatch the football from the air.
"If they don't have that already, it's a hard skill to teach. So he's already got that. He's gotta learn what to do, but he's got good quicks, he's smart, he loves football too."