Miami hires Michigan Recruiting Coordinator Doherty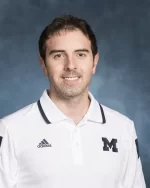 Sources tell CanesInSight.com that Mark Richt has hired Matt Doherty, Michigan's current Recruiting Coordinator, in the same role. Doherty was the former Assistant Director of Football Operations and Director of Player Personnel at Miami from 2011-late 2014.
The 30-year-old Doherty is a 2008 graduate of Miami's school of business administration. He began his career in 2009 as a scouting assistant with the New England Patriots.
Eric Josephs and Jorge Baez will remain on staff.