Meet Canes Hoops signee Dejan Vasiljevic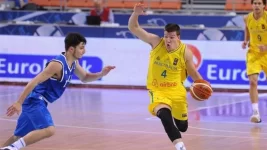 Although most of the chatter surrounding Miami's nationally-ranked basketball recruiting class has been about Dewan Huell and Bruce Brown, one name to keep an eye on is 6-2 Australian combo guard Dejan Vasiljevic. Vasiljevic led the Australian U-19 national team in scoring with 13.3 ppg during last summer's FIBA World Championships and is currently playing in Australia's Diamond Valley Basketball Association in the senior division before he starts at Miami on May 14th. Get to know the Canes Hoops signee in this Q & A, which shows he does not lack confidence.
Here is a video of Vasiljevic scoring 42 points last week in a league game -
https://www.facebook.com/DVBasketball/videos/950856475030049/?video_source=pages_finch_main_video
Q: How would you describe your abilities on the court for someone who has never watched you?
Vasiljevic: My abilities on the court can be described using two NBA players as templates. When I started playing, my game was based upon the late great Drazen Petrovic, in trying to replicate his ability to score from the perimeter. Whilst playing junior competition in Australia I was well known as an outside shooter. With my move to the Centre of Excellence my style of play changed and I started to look more like Kyrie Irving. For this, I needed to improve my ball handling, agility and speed. Being versatile does help when I don't have the height advantage. However on the court, I become one fierce competitor that not only drives the competition but also my teammates crazy. I am more determined to win than anything else. I do thrive in tense situations and I know I can't fail or feel disappointed if I give it all on the court.
Q: Do you view yourself as more of a point guard or shooting guard?
Vasiljevic: Growing up playing high school basketball and representing Australia at multiple World Championships, everyone including scouts have viewed me as a shooting guard. I view myself as a combo guard as I can also run a point and handle the ball when a type of situation comes into place. Playing for Diamond Valley, in Victoria's Big V championship, has helped me improve my point guard caliber. I have been playing against imports that have played all over the world, which will definitely assist me in being able to play against anyone.
Q: Have the coaches told you that there is an opportunity to play your freshman year?
Vasiljevic: I have had a number of conversations with all coaches, especially Coach Larrañaga, and they have all told me that I can make an immediate impact as a freshman. The coaches indeed mentioned there are lots of minutes for grasps at the guard spot after departures of Sheldon McClellan's and Angel Rodriguez's. Bringing the experience of competing at the greatest stage in junior competitions, two World Championships, the coaches liked my toughness and scoring ability however I will be joining the program early so they would get a head start in improving every area of my game so I can compete for the spot on the team right away. I am definitely up for the challenge.
Q: Were you surprised to see the 3-point line is shorter here in college?
Vasiljevic: I indeed noticed it watching games on TV, although I was not really sure how close it was. I did get a chance to see it first-hand during my visit when I had an opportunity to shoot for a while. I must admit it took me a while to adjust since my initial shots were too long. The easiest way was for me to step back to my natural perimeter. In Australia all our competitions follow FIBA rules and the 3-point line is almost 20 inches further away from the college 3-point line.
Q: Do you feel like you are ready for the cultural adjustment?
Vasiljevic: Indeed I feel ready. For the past 2 years I have lived away from home, at the Centre, and toured the Globe quite extensively, thus this chance of scenery should not come as a cultural shock. I have plenty of Mexican friends and love their food so that should not be a problem. I have completed my studies in December, so continuation should not be a problem. I am supposed to arrive on campus May the 14th, and I will get into thick of it all right away. While I was on campus the entire basketball and academia staff made me feel welcome and I knew Miami University was the best fit for me. Everyone has shown a genuine concern for me and they will do everything humanly possible to assist me with the transition as an international student. I trust they will look after me well, so I will not feel home sick and will deliver my best representing the Canes.
Q: Is your family ready to see you move?
Vasiljevic: At home we don't talk much about me moving away yet because as a family we are trying to spend as much time together instead of thinking about it. Spending last two years at the Centre of Excellence has assisted me well in preparing for living away from home. However, I do know my mum, being mum, will be very upset since I will be now far away. She is my number 1 fan and loves watching me play and having me around. She has already started talking about visiting me some time next year and asked my dad to arrange for online streaming of the games. With my dad, it is a bit different story since he sort of went through a similar pathway and understands that this is yet another new journey in my life and will always support me in my intentions and life goals. I will miss his comments from the sideline, one tough critique. Lastly my little sister, she is the one who got me playing basketball and I will miss her the most. All the one-on-one battles in the backyard and talking hoops nonstop, yet I believe she may be a Cane one day if she continues to train and play hard! I will definitely miss them and I know they will miss me too; hopefully mum will be able to squeeze some of her food through the phone line.
Q: How much were you able to watch the Canes last season and what were your thoughts on them?
Vasiljevic: I was able to catch most of the Canes last season and even though the time difference affected availability to watch the games live, I always watched the replays. I was very impressed with team and how they improved every single game. I think they managed adversity very well and were a bit unlucky to come across such a great shooting Villanova team. Coach Larrañaga and his coaching staff have done a great job implementing such a great team culture and trust among the players, which was very apparent in tight contests. Obviously the coaching staff continues to deliver as they have recruited very coachable players who want to be part of something special in Coral Gables. I can't wait to join the Canes program and begin playing for Coach L.
Q: What is something that you need to improve in your game?
Vasiljevic: Obviously to move to a next level as a basketball player every aspect of my game basically needs to be improved. For the past several months I have been working on my offensive game and my ability to defend multiple positions. Executing pick-and-roll scenarios and volume shooting from multiple positions have already started paying dividends and I am planning to get even better. However everything begins at the defensive end and the Canes have excelled in defense. For this reason, I have tried to place myself in as many positions as possible, even playing against centres, as I would need to defend players that are taller, stronger and certainly more athletic than me. These challenges will certainly make me a better player.