Kai-Leon Herbert talks about signing with the Canes
January 25th, 2017 at 7:35 PM. Kai-Leon Herbert announced where he would play college football.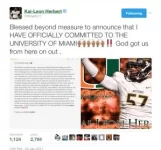 Six days later he's officially a Miami Hurricane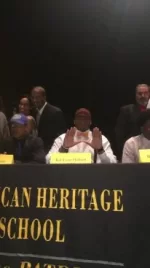 "It's a blessing." said Herbert "Miami has been my dream school since i was 5 years old. It's a dream come true."
Herbert is apart of the best offensive line class in the nation — what does he think about it?
"I don't really know the out of state guys, but the guys like Navaughn and Corey — They're straight savages." Herbert said "We're going to go in, compete and dominate."
For a school like American Heritage, who hasn't sent a player to Miami in 10 years, it's a special moment for Kai
"I didn't even know about that wow." said Kai "It's just amazing because i'm going to try and bring guys like Tyson Campbell, Andrew Chatfield, Patrick Surtain and others."