Don't blame Richt or Kaaya; this stretch was inevitable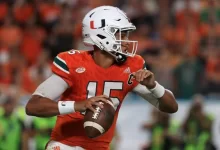 This was supposed to be the game Miami bounced back.
Coming off of yet another heartbreaking loss against Florida State, the 'Canes were supposed to come out and dominate UNC. They were definitely the favorites after UNC's loss to Virginia Tech at home, and fans were ready to get the "block at the rock" out of their mind.
Fans clamored for a more "creative" offense after putting up only 19 points against Florida State, and were hoping Miami came out guns blazing offensively against North Carolina.
That didn't happen.
Instead, the Hurricanes put up a mere 13 points, and fumbled the game away on a potential game-tying drive with less than 2 minutes remaining.
After the game fans voiced their concerns, pointing to playcalling and decision-making from Brad Kaaya as the reason for the defeat. Outrage spread through online forums and social media, as fans looked for a scapegoat to blame the loss on.
The fact is; however, none of the aforementioned people are responsible for the last two defeats. This years team is simply a product of the reality prior regimes created.
Over the past couple of seasons, Miami's fan base began to coin the phrase "we have the talent, just not the coaching," and in 2014 there was much validity to that statement.
The 'Canes had two first round draft picks that year, and players such as Duke Johnson, Denzel Perryman, and Jon Feliciano have excelled from that class as well. What has been lost in translation; however, is that the depth on that team is non-existent today.
Al Golden was often referred to as a "used car salesman," and once 2015 rolled around his pitch got old. Miami began to lose more talent than they acquired, and the cupboard turned empty after bad recruiting classes such as his last one in 2015.
The epitome of this statement comes at the cornerback position. Top prospects such as Nigel Bethel and Tyler Byrd decommitted once they realized the direction of the program, and a position that was a strength in 2014 became a glaring weakness two years later.
Corn Elder is playing as well as any cornerback in the ACC right now; but if you look otherwise, there is little to no depth. Richt immediately brought in graduate transfer Adrian Colbert, and shuffled the deck in preparing sophomore Sheldrick Redwine to become a starter. Redwine barely got snaps on defense last season, but due to a lack of depth he has been thrusted onto the field.
Al Golden's past recruiting failures have forced players such as Redwine to play large roles they may not be ready for yet.
The depth issues aren't just in the defensive backfield; however, they are all over the roster.
Miami's offensive line was filled with first year starters last year, and Trevor Darling has been forced to start since his freshman year. Miami is among the nation's leaders in number of freshman starters, and key positions such as wide receiver and linebacker are relying on first year players to make an impact.
On Saturday several more players got injured, and freshman who need development such as Malek Young, Robert Knowles, and Joe Jackson found themselves on the field when the stakes were highest. Although the coaching staff implements a "next man up" mentality, the depth simply doesn't allow for success.
As much as fans want to say "you can't just keep blaming Al Golden," they must also realize Miami can not leave his shadow until Richt's recruits enter Coral Gables.
No creative play-calling can cover up an offensive line with no depth, and no quarterback can lead a team on a game winning drive when his protection falters within three seconds.
So before you blame this stretch on Richt for running a "vanilla" offense, or Kaaya for "not making throws down the field," realize Miami's new staff can only play with the hand they have been dealt.
And the hand they are dealing with, is a Miami roster that has been depleted by a string of decommitments, and a defeatist culture that has stayed within the program for a decade.