Deejay Dallas nearing possible commitment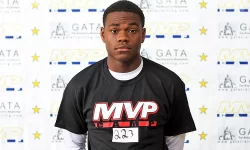 One question that Miami fans had when Mark Richt took over was whether or not the Canes could pluck recruits out of Georgia with Richt's ties to the area.
Miami might not have to wait much longer to bear the fruits of Richt's labor there, as Deejay Dallas from Glynn Academy in Brunswick, Ga. is heavily considering the Hurricanes. Dallas is a former Georgia Bulldogs commit.
"They've made me a priority. When I decommitted from Georgia, the coaches from that staff and Coach Richt offered me immediately. Coach Richt told me that nothing was going to change from the relationship that we had at Georgia," said Dallas.
The 5-10, 190-pound electric athlete does a little bit of everything for his high school team. The Canes coaches have made it clear to him that they will not limit the possibilities for him if he winds up in Coral Gables.
"They've mentioned a whole bunch of stuff like me starting with the receivers and making my presence felt there and then also playing some defensive back too, while being a return man," explained Dallas. "That's one of my goals, to be a triple-threat prospect and Coach Richt is fine with that as long as I come in and produce."
As far as a timetable for Dallas' decision, it seems like it could be coming shortly. Dallas is an early enrollee.
"It's coming up pretty soon. I am slated to do it after spring ball, but it may or may not happen then. If not, it will happen in December," said Dallas.
Other than Miami, Dallas says that Alabama, Michigan, Florida State, Florida, UCLA, and Oregon are recruiting him. It appears that the Canes have really caught Dallas' eye though.
"Miami is the school that has been recruiting me pretty much the hardest ever since the new staff has gotten there."
Richt is obviously a major reason for Dallas' interest in the Canes and he appreciates the family values that the former UGA coach brings to the table.
"He's a good role model because he cares about his players after football. He cares about them as a person and speaks about his players as his own children, so that is what draws me to Coach Richt," said Dallas.
In addition to his visit to Miami in April, his family visited separately when he had to return home. Dallas also happens to have family that lives in Opa-Locka. Miami has a built-in advantage too with their academics situation.
"At first, my mom wasn't sure about Miami, then she took the visit and she really vibed with the campus and everything," said Dallas. "She wanted to make sure that they had what I wanted to major in, which is marine biology."
Not only does Dallas have a strong relationship with Richt, but wide receivers coach Ron Dugans and tight ends coach Todd Hartley.
"He reminds me a lot of my uncle in the sense that he's really caring and he's a genuine guy," said Dallas. "Coach Hartley has been my guy ever since he was at Georgia. We all have a pretty solid relationship."
Highlights
:
Deejay Dallas 2015 Highlights - DeeJay Dallas highlights - Hudl