CanesInSight Podcast 8 presented by CanesWear ft Blake James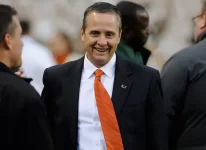 In this week's edition of the CanesInSight podcast presented by CanesWear...
Miami athletic director Blake James joins Peter Ariz on the podcast to discuss the upgraded stadium, taking a look back at the coaching search, and his feelings not he state of the program.
Canes DB commit Brian Edwards and safety target Amari Carter join the show as well! Listen below or subscribe to the CanesInSight podcast on iTunes.
[SOUNDCLOUD]278754161[/SOUNDCLOUD]