Andrew Chatfield Talks Recruiting After Opening Regional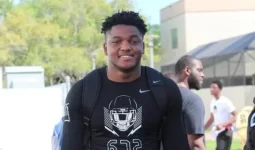 Over 300 players entered the Miami Dolphins practice facility on Sunday for the Opening Miami Regional, but only 12 players left with an invitation to Oregon this summer.
One of those 12 players was American Heritage defensive end Andrew Chatfield, who shredded offensive lineman throughout the day.
[TWEET]835939800066707457[/TWEET]
Chatfield's recruiting has ramping up after a big junior year, and is being heavily recruited by big time programs around the nation.
"I've visited Miami, Florida State, Florida, and Maryland," Chatfield said.
Chatfield plans on visiting more schools, and one school that he hasn't visited leads the way in his recruitment.
"LSU," Chatfield said. "They've been at me for a little while and I'm about to go visit them in a little bit so it's gonna be fun."
Chatfield says LSU is coming after him harder than any other school, and are among his tightest relationships on the recruiting trail.
"The LSU coach," Chatfield said. "He is the DB coach. I think he is the recruiter for me down here, Coach Raymond. I have a great relationship with him, also Ohio State's coach Zach Smith, and the Alabama coaches."
As for Miami, Chatfield visited on junior day two weeks ago, and continued to develop a relationship with his former high school coach Mike Rumph.
"It was cool just to see my former head coach, Coach Rumph," Chatfield said. "It was just really cool. They have a nice vibe and talking to the coaches was great, it feels like they got it figured out over there."
And while on the visit Miami's coaches pitched Chatfield on the idea of bringing the 'Canes back.
"They were just telling me how the program is," Chatfield said. "And how they were ruling and how the program is coming back. I'm just proud of that, just to see my home [school] coming up like that."
Chatfield's teammate on the defensive line, Nesta Silvera, is currently committed to Miami and is recruiting Chatfield himself.
"He's telling me everything," Chatfield said. "He's always telling me about the U, 305, so we'll see."
Chatfield does not currently field an offer from Miami, but is hoping to get one soon.
"I'm hoping," Chatfield said. "But we're gonna see what happens. I really don't know [if it's coming], but if it comes I'll be blessed that it comes."
Chatfield says he will name a top 3 in the summer, but said a Miami offer would be signifiant.
"That would be huge," Chatfield said. "Growing up in the backfield I always see, always watched them play on the TV and stuff and I was like, why not play for your home? Why not bring the 305 back?"