The Work (spring game edition)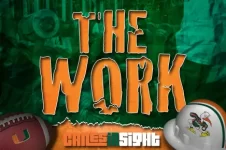 **To sum up the spring game for those of you who couldn't make it: everything that happened Saturday must be taken with a grain of salt.
--The first thing I noticed while roaming the sidelines and talking to people close to the team was that this was nothing more than a show for the fans. All of the real scrimmage stuff is done in closed practices.
--Even James Coley told me after the game, "He (Brad) can do a lot more this year, but we obviously weren't going to show any of that today. Everything today was extremely vanilla."
--Another source told me that the offense was running different four verticals concepts all day. Not exactly a play that slices apart a defense dropping back into coverage.
**It would not surprise me to see Malik Rosier get some action in spots this year, most notably as a package QB. Coach Coley told me that the offense is more "spread-oriented" when he is in the game and that "he's not just a clipboard guy". Rosier is not consistent enough yet to be considered a legit every down starter, but he can do some exciting things if used correctly.
**Rashawn Scott is a guy who has impressed all camp long, and has had a good relationship with Kaaya since last fall. He had a couple balls bounce off of his hands, but James Coley was not discouraged.
--"He just has to catch the ball," Coley said.
--"I'm not disappointed in him because he bounced back from it. But he did a great job fighting to get open a ran a great route, so he's just gotta finish."
--Coley also added, "He is a strong, big, fast receiver who I am really fired up about him being a part of the offense because he can be such a weapon for us."
**I have been hearing good things on the tight end position all spring and Coley echoed those sentiments. He mentioned Standish Dobard and Christopher Herndon right away as guys who have really separated themselves, but he seemed to be very excited about David Njoku as well.
--"If he puts in a lot of work, he is going to be really good. We are so impressed by his athleticism."
--Jake O'Donnell had a nice day of work as well. Good to see him step up.
--Jerome Washington is raw, but continues to show promise. Has the frame and movement where he should be very good once he adjusts to the speed of the game.
**Both Coley and Brad Kaaya highlighted that the defense had a good day.
--Coley liked what he saw from the defensive line and mentioned that they were getting lower than the offensive line.
-Kaaya said the defense was "dominating" the offense. Kaaya said he pulled his side of the ball together at half and told them that they needed to "wake up".
**Brad Kaaya has not even been here for a full year and he is feeling much more comfortable than last season. He has established himself as the leader of the team and guys trust him.
--He said that his mindset has always been that "the season starts in January," so making the move to Miami last May was an adjustment period for him.
--Kaaya added that he spent a large part of his time watching film during spring practice.
**Defensively, I am cautious when I say this, but I feel better about the line than I have since Golden has been here. The difference to me is not only the obvious addition of Quan Muhammad, but Michael Wyche and Anthony Moten's progression.
--Wyche has gotten into much better shape and showed a nice quick first step in the game.
--Moten is coming into his own, which is a tremendous sign for Miami because he has the size and athleticism to blossom into a big-time player.
**Although most people are identifying Raphael Kirby to become the guy who steps up and leads that group, I'm looking at Jermaine Grace to fill that role. He is a very good open-field tackler and can run in space.
**Jamal Carter was in the right place a couple times today for two interceptions. He deserves credit for catching both though, because that has been a question in the past. If Miami gets THAT Carter this season, then that safety position is a major strength.
--We did not see a lot of it on Saturday, but JaQuan Johnson had a great spring and he will be on the field a lot. His maturity has never been doubted and he proved that over the past month.
**As far as recruiting goes, I was told that Miami generally did not push this event to recruits at all because it was not a flashy spring game. There were some commits in attendance, including the linebacker trio of Shaq Quarterman, Zach McCloud, and Greg Simmons.
--I'm told that there is not anything "imminent" on the horizon with the class as far as another big wave of commits or a big prospect committing soon. They are in a spot where they know a lot of what happens will depend on the season they have. But at the same time, in no way has the staff stopped recruiting kids. They know it's not possible that all of these kids stick, so they are still actively searching and calling.
**Tomorrow I will be posting exclusive video interviews with James Coley and Jamal Carter. Coley and I discussed the unproven offensive line, Gus Edwards, and Brad Kaaya's progression. Carter recapped his day and the biggest difference for him this upcoming season compared to last.
--There are also some video highlights that you will want to check out.