The Work (Recruiting Edition) 9-8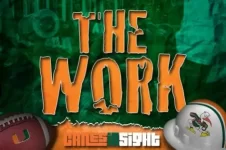 **The recruiting impact of yesterday's win is something that all 'Canes fans have been curios about. From talking to a number of recruits about the game, I get the impression that this validated a lot of their beliefs about the direction of the program under Al Golden. This is also the type of win that opens the eyes of uncommitted prospects not just for this class, but for the juniors and sophomores in high school.
--Here are some reactions from recruits on the game:
Nigel Bethel II – "It was a good game. I actually predicted Miami to win 24-17, but that was a program changing game."
Brandon Powell – "I love how the U fought all game. The U is back!"
Demetrius Jackson – "Great game…especially on the defensive side of the ball…it's a big step for the program."
Malik Rosier – "Yesterday's game was a great one! Had me on my toes. Our defense had so much energy, this is a new beginning for Miami to get back to the way we used to be!"
Doyle Grimes – "It's a great win for the program means the sky is the limit and most definitely there will be more losses handed out by the U to either ranked or unranked teams. Doesn't matter, the U is back!"
Ryan Mayes – "The defense and secondary played really well and I feel it means a lot to the program. That was a big victory."
Brad Kaaya – "I think the W shows the U's legitimacy and that we can live up to the hype. I'm not going to put it out there that the U is back but I definitely think it made a statement."
Shawn Burgess-Becker – "Both teams played well." (Tito Benach)
Reilly Gibbons – "Everyone knows 'The U' is the top academic institution in Florida, yesterday's win establishes that we are once again a powerhouse football program!" (Tito Benach)
Trent Harris – "It's a big momentum shift and I think it was a great team effort" (Tito Benach)
Jacques Patrick - "They made a statement that they're on their way back." (Tito Benach)
**Some other chatter regarding recruits at the game:
--No surprise here, but Miami is not in position to land Travis Rudolph right now.
--A prospect that I am interested to track over the next few months is USF commit Jimmy Bayes out of Immokalee. Bayes was at the game yesterday and has been to multiple Miami events throughout the spring and summer including a camp, where he was impressive. Bayes does not have a Miami offer right now, but it is obvious there is some mutual interest and he is in the mold of long, rangy defenders that Golden and staff have shown they like.
--Chris Lammons was at the game, but I don't see him still considering Miami or the coaches even wanting him at this point.
--I've heard some conflicting things on Dalvin Cook regarding yesterday. One person who was in the recruit section that I spoke to told me that a Central coach believes Cook will flip to Miami, while another person said Cook left the game after Duke Johnson's touchdown in the 4th. I asked Nigel Bethel if he thought Cook would flip and he said, "Doubt that'll happen."
--Anthony Moten was at the game and Miami continues to be in very good shape for him. A decision could come from him sooner rather than later.
--Braxton Berrios' visit went very well. I talked to him after the game and he was fired up. Miami in great position.
--Kentucky WR commit Tyre Brady was in attendance yesterday. Miami has continued to recruit him even after his commitment and his interest remains high. Brady has as much talent as any receiver in Florida and if his attitude/work ethic is right then he can be elite. It will be interesting to see how the receivers class pans out.
**On Ermon Lane: I don't see him flipping from Florida anytime soon, but there was already some doubt in his mind about his decision before yesterday and the Miami win could only have added to that. I exchanged messages with someone close to Lane this morning who told me, "That kid doesn't know what he wants to do. Lol"
**Ryan Mayes had two interceptions for Miami Northwestern last night against Jacksonville Raines, with one of them being returned for a 30-yard touchdown.
**A few observations from the Booker T. Washington-Central game the other night:
--Joseph Yearby showed a burst that I had never seen from him. He has always shown elite quickness, but he showed top-end speed the other night against probably the fastest team in the country.
--The more I see from Demetrius Jackson, the more I like him. The upside is obvious, but he has produced on the field as well. Central ran the ball most of the game, but when they had to pass it late, Jackson was almost unblockable. He made a key sack/strip from the quarterback's blindside and also a big hurry on the last drive. His speed off the edge is incredible and I wouldn't be surprised to see him ranked as a consensus 4-star recruit when it's all said and done.
--The Nigel Bethell II-Da'Vante Phillips matchup was great to watch all game long. Phillips caught two short passes on Bethel on the first two plays of the game and also beat Bethel deep, causing the Miami commit to hold, but Phillips was otherwise held in check and did not have his usual game-breaking catch. The two were jawing back-and-forth all night.
--As expected, the quarterback play made the difference in this game. Treon Harris made the plays late that carried the Tornadoes to the win, and Central's passing attack didn't make enough plays to keep the Booker T. defense on its heels.