The Work: Practice 4 Recap and Quotes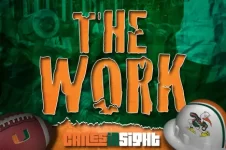 **Mark Richt told reporters that the defense won the day once again on the fourth practice of fall camp, but the head coach continues to show excitement about his team as a whole.
"We're practicing with the right kind of effort and attitude. I thought the offense competed better today. If we kept score, the defense probably would have had the upper hand but it was a closer competition today – a lot more fight from the O," said Richt.
Richt added that only one player needed an IV today for dehydration.
"I was really encouraged because guys are fighting the heat and playing tough and physical and everything you want. At the end, it tapered just a tad. I probably gave them too many breaks. I'd rather keep them hydrated and safe."
**One of the most exciting storylines entering camp was the potential of this wide receivers group. Although there's not much proven depth after losing Rashawn Scott and Herb Waters to graduation, the influx of talent with Dayall Harris, Ahmmon Richards, and Sam Bruce.
During the spring, Richt made comments saying that Miami lacked speed at the wide receiver position. Losing Lawrence Cager has not made the situation an better. With the additions of a few newcomers, the Hurricanes coach feels much more comfortable with the stable of receivers.
"We have good game competitive speed now, especially for our number two unit on defense," said Richt. "I wouldn't say in the whole receiver group that no one had speed, but as a group we didn't have enough speed. Now we have more guys that can really run and be competitive and test our DBs."
A fifth-year senior who has had the hearts of Miami fans since his injury against Georgia Tech has stepped up as a leader in the locker room, according to Richt.
"Malcolm Lewis is really under-the-radar to me. He's really practiced well in the spring and the fall. I think he can be a very good player. He's a senior in there who leads by example," Richt said.
Ron Dugans is coaching the position and weighted in on Lewis' outlook for the season.
"I challenged Malcolm and told him that we expect bigger things out of him since he's a veteran – being around for some years around this university, I feel like he could bring something to the table for us. He competes and has good ball skills. He has really good speed and has caught the ball well for us in this fall camp," said receivers coach Ron Dugans.
"It's been a process," said Dugans. "They've been coming out and competing. I'm trying to get them to play at a high level, but it's been fun seeing those guys compete on the perimeter, in the run game, in the pass game, in the one-on-ones against the DBs. I think those guys can help us."
**Richt on Stacy Coley: "I'm seeing him and everyone else, just pushing a little bit harder and longer than maybe they're used to," said Richt. "Guys are starting to pop up off the ground and hustle back and run the next play, instead of laying there and assessing whether they're too tired or something hurts."
Dugans on Coley: "He's trying to become more of a leader. I challenged him and tol him he needs be lead more. I'm the coach and I get you guys motivated and all that, but this is your segment. I want you to be one of the leaders in that room…The first thing I had to treat these guys, and especially Coley, was how to be a pro and how to treat your body. He's been a lot better than he has in the past with his conditioning."
**Dugans on Ahmmon Richards: "He's got a good skillset. He can run – that's one thing that he can do. He's a shifty kid who has ball skills and I think he could be a really good player for us. He's still young and needs to get some strength and conditioning to him, but he can stretch the field for us."
**Dugans on Sam Bruce: "He came a little bit later in the summer, so he's not as far along as the other young guys, but he's learning. He can play the inside or outside lane. I'm excited from the few things I've seen this fall.
**Dayall Harris, a JUCO transfer from Copiah Lincoln C.C. in Mississippi, has been a reliable target for the quarterbacks in the early going of fall camp. The former Ole Miss receiver has a good sense of how to use his body (6-3, 200) and can create separation in tight spaces.
He told reporters today that him and Ahmmon Richards are splitting first team reps. He said today was an "off day" for him.
**We got a chance to speak with fullback Marquez Williams for the first time as a Hurricane. He has been an early standout of camp, as he's running with the first team.
"Everyone in Miami has made my transition just the way I thought it would be. It's like a second home," Williams said.
Richt credited his son Jon for helping land Williams due to his relationship with the coaching staff when he played college ball there. Jon Richt was actually a senior at the school during Williams' first year at the program. He had an extra year of eligibility to play after redshirting his first season and then graduating in four years.
"It's not going to be super complicated for him. He is in our 21 package, which is two receivers, a tight end, and two backs. The package that we run in 21, he is picking up pretty good. That's pretty much what he did his whole career at Mars Hill," Richt said.
Williams is excited about the opportunity to work with offensive coordinator and running backs coach Thomas Brown.
"Having Coach Brown as a coach makes all of us better in every aspect of our game. He teaches us to be mentally and physically tough. There's some great backs who run hard and fast and know the playbook. "
Williams says he doesn't expect to touch the ball much, but has no problem with it. He said that Mark Richt brought him in to be a leader as a fifth-year senior and that's what he wants to do.
**Entering his senior season, safety Jamal Carter said, "we've got a couple blitzes here and there" for him in the playbook. The utilization of Carter's disruptive tackling ability and burst will be interesting to track this season.
Carter said that he wanted to improve his "football instincts" in this camp. The physically gifted safety has shown flashes of thumping ability, but needs to be smarter in coverage.
"I want to play the game fast and calm and just have fun with it," he said.
**Defensive Coordinator Manny Diaz spoke about sophomore linebacker Jamie Gordinier two days ago as a player who was heavily in the mix at his position. Gordinier spoke to media today for the first time during fall camp.
Gordinier told me that he is currently playing weak side linebacker, whereas he played more middle linebacker during the spring. He added that he feels comfortable enough to play either spot.
"It takes a little bit to get used to a new position, but the past three or four days I've felt pretty good," Gordinier said. "There's a lot of WILL blitzes being utilized, so I'll definitely get my chance to pass rush."
Gordinier said that compared to one year ago he is stronger, faster, and understands how to break down film much better.