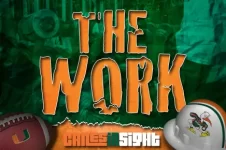 **Some fans had hope that Miami would speed up the pace of their offense, which was statistically one of the slowest in college football last season. Al Golden says that is not something he is concerned with, rather he would like to see an improvement on 3rd downs, where the Canes ranked 92nd in the country in conversion rate.
"I'm not interested in that (tempo). I think for us, our time of possession was good. I think we needed to convert a couple more on third down, which would have tilted it in our favor…I think our pace was right where we wanted it to be. We mixed it up the way we wanted to, but that wasn't the issue," said Golden.
--Golden said he believes it is more difficult for a defense to have to defend just one speed, which is why he does not want the offense to just go full speed ahead every play.
"I think from our standpoint, just being a defensive coordinator, it's much harder to defend multiple tempos than it is to defend one tempo. So I believe in multiple tempos, multiple groupings."
**Golden called the current group of running backs "interchangeable" and added that they are all getting even reps as of now.
--"I think Choc is showing his maturity, his conditioning. He's running harder and better. Mark is really learning it," said Golden
--Altough Joseph Yearby missed time with the team this summer, his body is not a concern. The knock on the Miami Central product has always been his size, but that is no longer the case. Golden seemed extremely pleased with what he has seen out of him, saying that Yearby has exceeded expectations physically.
"His conditioning is really good and he's big. You guys can probably tell he's big. He's over 200 pounds and I don't think he broke 190 in the spring. We gave him a goal
weight of 195, but he kept lifting and getting stronger and bigger so he's moving really well at that weight."
--The balance at running back between Yearby, Gus Edwards, Mark Walton, and Trayone Gray has been an early camp theme. Yearby said the group is embracing the opportunity to spread the ball around.
"We're trying to bring that whole Running Back U back. Everything we do, we just try to make each other better because all of us are going to get the ball and do our thing," said Yearby.
**The kicking game is expected to be improved from last season, when kicker Michael Badgley and punter Justin Vogel were both seeing their first action as Canes.
"Last year we thought we were going to have Matt Goudis. I remember just thinking he was going to return and he was going to get stronger, but it didn't materialize and all of a sudden we were left with three spots, kickoff, field goals, and punts, so it feels a lot different right now," said Golden.
--Golden touched on what he has seen from Badgley and what makes him a good option at kicker.
"Badge is doing good. Confidence wasn't Badge's issue, right? You like that in a kicker, just real gutsy, confident, always embellishes where his line is before a game; tells me he can hit it from 152 this way or 95 into the wind, but he's confident and he's developing a process."
--More on Badgley from Golden: "Remember he's an athlete. Don't forget in high school he wasn't just a kicker, so he's an athlete and now he's becoming a good kicker. To do that, you have to be methodical. It's like going to the driving range."
--Hangtime on punts is something that Golden says separates Jusitn Vogel.
"Vog is doing a really good job. He's confident, and steady, and quietly self-assured. He goes about his business and hit some great ones today. What he does is he hangs them up and it's hard to return."
--Golden added that Badgley is probably most comfortable with Justin Vogel as holder.
--Golden said he that there is still a "competition" for the kick off specialist job.
**The battle at Left Guard will be something to monitor as camp progresses. Alex Gall and Hunter Wells have been working the most at that spot, but you would have to believe that McDermott is also a possibility at that spot.
--Hunter Wells spoke about what he believes this offensive unit needs to do this season.
"We need to run the ball. That's what Miami Hurricanes football is about and we've always been able to run the ball. We've been doing good so far, but we need to do a better job and just punish defenses."
--Wells mentioned Tyree St. Louis and Tyler Gauthier as two of the freshmen who have been sticking out to him.
"Gauthier is a really strong kid. Once he works on his fundamentals, he's going to be unstoppable. Tyree St. Louis is just a natural talent. He is going to be great."
--As a veteran, Wells says it is important to continue mentoring the younger lineman.
"We've gotta just keep their energy up because it's getting to the point of camp where the little injuries and nagging things are getting on their mind, but you've just gotta keep talking to them and get them to go."
--Kc McDermott mentioned yesterday how the OL and QB groups have improved their communication by holding meetings together. Wells touched on the importance of those film sessions.
"It makes it a lot easier just trying to work on plays and little things that normally we weren't able to talk to them about. We'd have to go 'hey go get Brad and bring him in here real quick' and stuff like that. So now we can go in there, sit down, and work out our kinks."
--Staying with the offensive line, I was able to catch up with Alex Gall, who is taking a large portion of first-team snaps at Left Guard right now.
"I feel a lot more comfortable in my position. When I got here out of high school, I had never played the left side…The game really slowed down a lot and I got a lot stronger since I got here. My feet got faster," said Wells.
--Sonny Odowu has reportedly been a bright spot through five days. Gall agrees.
"Sonny has really developed over the past couple years. Football was so new to him. He's a big guy, so strong and now his technical game is getting so much better that he is just going to be a great tackle for us."
--Gall was also touting those meeting with the quarterbacks group.
"It's a big help being able to see what the quarterback sees from his eyes and vice-versa with us telling him what we see. So when we come up to the line, communication is more smooth and we can understand each other and be on the same page."
**Junior corner Artie Burns is potentially a player on defense who could make a big leap this season with more playing time. He says that the competition with the receivers is aiding in their growth as defensive backs.
"From my freshman year when coach KB came in and started coaching them, I see a big improvement on just the little things and that helps us for when we go up against other receivers," explained Burns.
--Burns on Rashawn Scott: "He's explosive and he's a big body. You don't see a receiver everyday that 210 pounds and 6-1."
--Burns on Lawrence Cager: "He's coming along real well. He's got good size and a big frame too. He's working on his releases and all that and he's gotten way better from when he first got here, so he's going to be really good."
**Trayone Gray has been impressed with freshman running back Mark Walton thus far.
"Mark Walton is like a veteran already. He listens, he takes coaching, and he doesn't talk back. He plays his role," said Gray.
--Gray on catching passes out of the backfield: "I feel very comfortable doing that because I played receiver my 11th grade year so my hands are very good…That should be a good role for me."
--Gray on what playing quarterback his senior year of high school does for him: "Playing quarterback, I kind of know what the defense is in and I can read it so it kind of gives me a good advantage."
**Tyre Brady is one of Miami's most physically gifted players on the roster, at 6-4, 207 pounds. He believes that major strides have been made for him personally.
"I'm more comfortable with the playbook now and I made some gains in the weight room thanks to the strength staff. I feel comfortable right here, but I might go up a
little bit more," said Brady.
--Brady on Sheldrick Redwine: "Sheldrick is a physical guy and he likes to get his hands on you. He's long and he has added weight to his game."
--Brady on Robert Knowles: "He's real aggressive out there. He's quiet and he's a hard worker. He is a great teammate."
**Cornelius Elder said that himself, Tracy Howard, Dallas Crawford, and Deon Bush are all taking reps at nickel corner right now.
--Elder on Deon Bush playing some nickel: "He's a safety that can play corner. He's fast, he has good hips and he can play any position honestly."
**The Canes will hold their first two-a-day practice tomorrow.