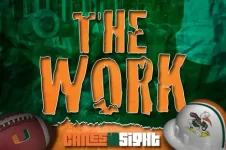 For this edition of The Work, I compiled some Twitter questions and hit on some of the most frequently asked things surrounding recruiting and the team.
**From @TheU_310 - what's the deal with AQM?
Nothing new here from my update last week. This is out of the hands of the football people and the school admin is dealing with it. In my opinion, the situation has been handled extremely poorly. The kid needs an answer and the school is doing him a major disservice. Although there has not been any official announcement, he is basically being suspended "indefinitely". They have not told Muhammad or the football staff how long he will be out.
**From @kikebraves - any update on mark walton? And if he's class of 15 do you see him decommitting and going else where
Walton is still in the process of trying to reclassify from the 2016 class to 2015. Miami is monitoring the progress, but as of now he has still not officially made the switch. I expect him to stick with Miami either way.
**Another question from @kikebraves - rumor was Dexter Williams was at UF this past weekend any truth to that? Is that commitment still 95%?
Miami's optimism with Williams is trending up. A source told me this week that he is heavily recruiting other guys to Miami and the coaches are feeling much better than they were a month ago at this time. The Canes are not counting him all in just yet, but things have solidified.
**From @Clayboy_305 - What happened to plays to get Gray involved in wildcat system?
I wouldn't necessarily say that anything "happened" with using Gray in wildcat. That was never something that was a lock, just something for James Coley to keep in his back pocket. Also, we are two games into the season. They were not going to use anything like that in Gray's first collegiate game and it would be dumb to break out something like that against FAMU. I still think Gray will get more touches as the season progresses, but that does not mean it will be in the form of a Wildcat system.
**From @CarlBleich - Will we see Ryan Williams as the starter this season or is this Brad Kaaya's year?
You can't rule out the possibility of Williams playing this season, but I have been told that it is unlikely that he starts at this point. Williams will be ready at some point within the next couple of weeks, but the staff knew that he would be ready early when they made the Kaaya decision.
**From @SirDerekParks - What's the deal with Ben Edwards?
Miami wants Edwards badly and believe they are squarely in the picture with him.
**From @CanesFan357 - What's the latest on Cronkite, Irvin, and Clarington? Any insight on all these predictions of Tyrek Cole to WV?
Jordan Cronkrite and Tim Irvin will be at UF this weekend. Cronkrite's contact with Miami has not been as consistent lately and that has him looking around a bit. He has options. Irvin has been telling people around him that UF is making a move as well. They have been Miami's biggest threat for months. I still think Irvin winds up here eventually.
With Clarington, it would be a major surprise to see him commit (keyword "commit") to anywhere other than Miami. Now, that does not necessarily mean he will end up here because there are some grades/transcript concerns. He has been at 4 schools in the last 2 years (Southridge, Westminster, Champagnat, Booker T.), which is never a good thing when trying to qualify.
I can confirm that FSU did back away from Tyrek Cole, as has been speculated and talked about by many over the past couple months. There are some off-field concerns with him, but the talent is obviously. His grades are not in good shape either. I would not be surprised to see Miami completely back off as well if they are able to land the other top guys on their board. West Virginia is the spot right now.
**From @ErickMarreroU - recruiting standpoint how many DB do we land in this class. And who are they?
Right now, Miami's defensive back board revolves around Tim Irvin, Ben Edwards, Devante Davis, Carlton Davis, Shawn Burgess-Becker, and JaQuan Johnson. Tyrek Cole is still in the picture, but when there are this many red-flags at this point in the process, it is tough to count on him. Never count out the chance of a kid getting everything together at the right time though, like Stacy Coley in 2013.