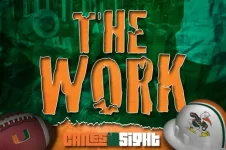 Recruiting Notes
**The Tim Irvin roller coaster ride continues, but things seem to be slowly turning back into Miami's favor. The Canes have always valued Irvin as a prospect, but Paul Williams' recent trip to watch him play really blew him away. UF has fallen off somewhat, which is a product of their disappointing season according to a source close to Irvin. Texas is the dark horse here because Irvin is a big fan of Charlie Strong, but it would take a lot to get him to leave South Florida right now. No timetable for his decision.
**Devonaire Clarington is no longer a priority at this point. The staff has monitored Clarington closely over the past three years and he has always been a prospect who showed more potential than production. Miami has decided to go in another direction due to a few issues, including the high possibility that it would have been a struggle getting him to qualify. I would not be surprised to see him wind up at Marshall.
**I mentioned about a month ago that Miami was quietly making a big push for Marcus Lewis and that the staff believed they were in the thick of things for him. Not much has changed, as I am told the Canes are a real option for Lewis. As of right now, Lewis has his Miami visit scheduled for the weekend before signing day and if that holds up, the staff will be going in for the close.
**Booker T. Washington's Antonio Calloway remains a major priority for the Canes at receiver. Local options such as Richie Cooper are being looked at as well, but as of now the focus remains on Calloway. Davante Davis is also still a major target at CB, but a Booker T source tells me that these two are almost impossible to read at this point. It is tough to cite Miami's very recent success at Booker T in this situation because both of these kids transferred over in the spring. FSU is the biggest competition.
**It is no secret that Carlton Davis is a big favorite of the staff and he is still being recruited hard. The wild card here is that I'm told Davis really wants to play college ball with his close friend Jeremiah Dinson, a cornerback from American High School committed to Kentucky. To this point, Miami has not shown much interest but that could be something that other schools use to lure Davis away from OSU.
**Miami took Dredrick Snelson over the summer knowing that his recruitment would be a journey, to say the least. They had not been recruiting him all that hard before he basically reached out to the staff to say he wanted to commit, and Miami liked him a lot so they accepted the commitment. The Canes absolutely love his talent level, but the staff was unhappy with the Snelson's recent posts on social media. A source close to Snelson says the whole Twitter thing was a misunderstanding and he will stick for now. Miami knows this won't be the last scare they have with him, though.
**I'm interested to see if Miami will budge on a Rodrick Archer offer late in the game. I think Archer could bring a nice versatility and explosiveness on the defensive side of the ball and it would not hurt to strengthen Jordan Scarlett's commitment.
**To follow up my Tweet on Friday, the Miami staff was unaware of any major imminent "Welcome To The U" when it comes to recruiting as a prominent reporter on Twitter had previously hinted at. Carry on.
Team Notes
**The status of Ereck Flowers is still up in the air for Saturday, but a source told me that he has been walking around on his own power and jogging since last week. It is still unlikely that he goes, but it would not be a complete shock to see him give it a try.
**Coaches are more than pleased with the progress of Demetrius Jackson. I'm told that Jackson has been the exemplary redshirt and taken the opportunity very seriously. Not only has he been adding great weight, but also his understanding of the game has improved leaps and bounds from the moment he stepped on campus. The word "monster" was used to describe his recent performances in practice.