The Work 1-20 (Louisiana Edition)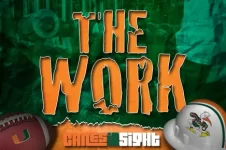 **4* DT prospect Glen Logan is currently committed to LSU, but the Canes are making a strong push. Logan visits Miami this weekend and a Louisana source tells me that Logan's mother is pushing Miami. She is a big believer in Mark Richt. Ed Orgeron at LSU remains confident that Logan sticks, but things are looking promising for Miami
**3* TE Irvin Smith out of New Orleans is committed to Texas A&M, but I'm told that he tried committing to Miami a couple weeks ago. The staff did not accept the commitment. Smith is the son of former Saints TE Irv Smith.
**Shyheim Carter - Although he visited Miami this past weekend, it is extremely unlikely comes, according to a Louisiana source.
**D'Andre Christmas-Giles - The new staff has tried to make a push, but to no avail. Canes are on the outside looking in and I don't foresee that changing.
**Briston Guidry - Guidry visited Miami last weekend and I put this at a moderate chance right now. Source told me that Guidry is the type of kid who has a new favorite school every week, and right now he's feeling the Canes. Whether or not that stays the case remains to be seen, but Miami is very much in the picture.
master p - bourbons and lacs - YouTube