With the speculation that Richt is going to call plays here and really implement his offensive system, I wanted to get some actual perspective of what that would look like. The best way I know how to do that would be to review actual games that Coach Richt has called the plays on versus talent that is comparable (or better in this case). What follows is a breakdown of that game review for Miami vs. Florida State in 1994. In this game, Miami won 34-20, Florida State used two QB's in this game, and Miami had Frank Costa at QB.
Just as a quick explanation for anyone unfamiliar with
personnel groupings,
the first number is the number of RB's, the second number is the number of TE's. You don't need to add a third number for WR's because the first two numbers tell you already. With five OL and a QB, the remaining numbers need to equal five. So, 21 personnel would mean 2 RB's, 1 TE, 2 WR's since 3 + 2 = 5. A five-wide set would be 00 personnel and so on, and so forth.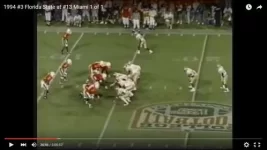 At this point in the game FSU had run crossers off of play action most of the game. When they didn't run crossers off play action they would run curls on 3rd downs. Usually they would use their flanker to get his speed to open up the corners hips and then curl back to the ball right at the 1st down line. A punt gets blocked and they give the 21 formation that they have used on half the plays thus far. Instead of going play action, which serves to pull LB's up, they run a post-corner that they had not run yet to this point in the game. The result is a wide-open WR as the CB bit on the post since they had seen so many crossers this game. He went out to the corner and found a soft spot. This is great play calling to save a play for when you need a big play opportunity in the money zone. Thumbs up for Richt here.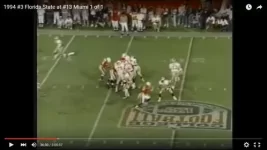 This is a 3rd and 3 play and the 4th time they have lined up in 10 personnel. The other three times they have lined up in this formation they have run routes behind the LB'ers and off play action. This causes some hesitation for LB'ers, just for a split second due to the fact they have run so many crossers behind them this game.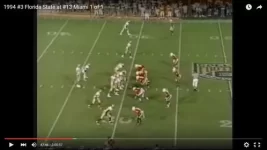 This is good play calling to use a variation off the formation that they have had some success with early on. I really like how Richt has set plays up thus far. Also, the formation we are running on defense gives the illusion that we are covering a slot WR with a LB'er. This is another tell of the coverage, because no one would seriously cover a shifty slot WR with a LB'er on 3rd and 3, so you know the LB'er is either going to blitz or shade to take away the slant. Either way, the screen to that side is the perfect call.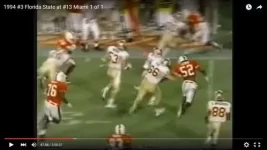 Student athlete of the game? 2.8 in General Studies for the Rock!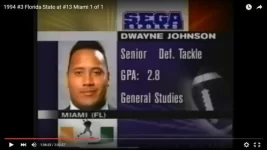 It's really important to watch film, study tendencies, and also track formations. This is the first time they're been in 11 personnel all game, and that stood out to me as soon as I saw that. I even said, I wonder what they called here, this is first time all night in this formation:
And, as you might expect, it was a bit of a trick play, as it was a direct snap to Warrick Dunn.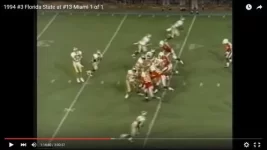 Even then the refs hated us…this was called the old five yards variety because it's Derrick Brooks. He literally tackled Costa by his facemask.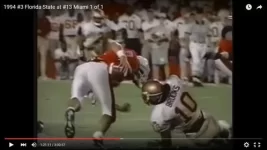 Richt is asking his QB to play the numbers game. If the LB'ers hug up on the LOS he stays in shotgun with split backs. If it's a soft 7, he walks up into the I-formation and runs the FB dive with Crockett, or play action pass with crossers and curls. The LB'ers are sucked up so much already that the play-action is very effective against the action the defense is giving.
I think this is on the QB, personally. The picture above shows the LB's were stacked up, yet Kannel audibled into the I-formation FB dive and it was absolutely stoned. I have no idea why he didn't stay in shotgun with splits. I'm going through this 21 years later, so it's not like I knew what was going to happen and I specifically used the screen shot as an example of when to stay in shotgun, only to see him walk them up to I-formation. Given what I've seen all game, this is an option the QB has, and he made a poor decision on the play call and went with the wrong one.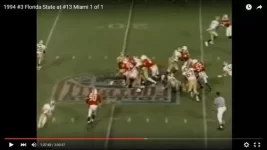 This is 3rd and 7, yet for some reason Kannel walked them up again into I-formation and tried to run play-action. Stupid. He gets sacked.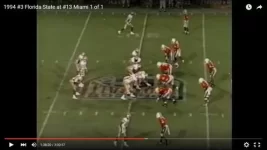 I guess I just either forgot or didn't know Kanell was this bad. He threw two terrible picks in the first half and then keeps checking into a bad play at the LOS. I'm anxious to see if Richt makes an adjustment to take that option away when they're running their base set (21 personnel out of shotgun).
Into the 4th quarter and it's obvious it's a numbers game that the QB is instructed to play, and it's also obvious the Miami defense doesn't respect them deep because we are playing 7 or fewer in the box on basically every play that isn't short yardage. Kanell just threw his 3rd interception and this one was returned for a TD. Kanell is now benched for John Stark.
What this review tells us is that Coach Richt will take what the defense gives him based on formations and allow his offense to be flexible and change as needed. Miami won this game 34-20, and where they really impacted the offense for FSU was in that they couldn't block Sapp, and to a lesser extent Pat Riley. This effectively took away the running game, but I was still impressed at how they would use play action to cause issues for a LB unit that was incredibly talented and led by Ray Lewis. His QB's hampered his offense big-time and really the only great talent they had on offense was Warrick Dunn and Zack Crockett.
As for personnel groupings, Coach Richt was ahead of his time in using tempo and no-huddle to cause issues for the defense. He ran no-huddle on 55 of 67 plays and tried to push tempo wherever possible. He ran 10 personnel on 11 snaps, 20 personnel on 14 snaps, and 21 personnel on 34 snaps.
Breakdown of what they liked to do from a personnel grouping: Their base personnel grouping was a 21 set, in which they had options for the QB based on what the defensive look was that they're given. I touched on this quite a bit above, but Miami just repeatedly dared them into moving from a shotgun set with backs on each side of the QB into an I-formation setup. While this was always a decision for the QB to make, this was also a byproduct of Sapp being a destroyer of souls in this game and FSU needing more help on the inside rather than help blocking off the edges.
Next, FSU would be in 20 personnel quite a bit and every time it was from a shotgun setting. Again, he liked to position his backs to each side of the QB and ran several different route combinations from this setting. This was an automatic audible to the inside run if they didn't walk the S up or have more than 6 in the box. Again, I like the fact that this offense is multiple and has counters for what the defense is going to do built in already. They are not relying on a superstar QB to make plays out of nothing, or a franchise tailback making a guy miss to move the chains. It's a system that can move the ball regardless of talent level. Early in game it was either inside run or playaction pass out of this formation. Later in game they were allowing the LB's to guess and running counter routes to get guys open routinely. Smart, smart playcalling. Additionally, he ran screen five times in this game and they almost all came out of this formation. He would use the WR splits to create space for the RB's and ask LB's to make a decision on the slot WR or coming up for the RB. Either way, the LB was going to need to make a tackle in space. This caused serious problems for Miami's defense, but I imagine this gained more yardage against teams who didn't have Twan Russell and Ray Lewis chasing plays down.
They were in 10 personnel 11 times in this game and he ran screen five times out of the 11 plays in this formation. He would use the WR splits to create space for the RB's and ask LB's to make a decision on the slot WR or coming up for the RB. Either way, the LB was going to need to make a tackle in space. This caused serious problems for Miami's defense, but I imagine this gained more yardage against teams who didn't have Twan Russell and Ray Lewis chasing plays down. Considering Miami was only successful defending the screen play one time, I can't blame him for calling this almost half the time from this formation.
At the goal line they liked to run 23 personnel and give it Crockett on all short yardage plays. The dude was an animal and this was effective.
They lined up in 11 personnel and it immediately caught my eye, as they hadn't done much of that in the game. Sure enough, it was a trick play direct snap to Dunn. They tried something sneaky both times in this formation.
Richt identified they had a problem inside with Sapp and Riley and moved his pocket five times in this game. Additionally, Kanell was throwing crossers, curls, flats all game and they bring in their backup QB and immediately go deep on the first play for the first time all night. The final numbers are misleading, as they ended up under center 35 times and in the shotgun 32 times, but they started in shotgun and moved under center on 14 occasions. Take that away and it ends up 46 to 21 from shotgun. For a team to be so shotgun heavy but also have the ability to get under center on short yardage plays it shows me Richt can really coach a scheme and understands to use his players strengths.
What I'd like to do from here is review the 1995 and perhaps 1996 games to see the progression of his play calling and setups. I'd also like to look at a game when Georgia played in a bowl game and then again from last year to see if the system was neutered, antiquated, or what changes in style were implemented.
From this one game I can see he is a talented play caller who tries to mask the weaknesses of his players while accentuating their strengths. He called a different game when Kanell was in the game than he did when Stark was in the game. He really understands down and distance, game situation, and tempo on offense. Remember, this was his first season calling plays and he was up to the task on this day, but his players simply weren't.