Najeh Davenport, Reloaded (part I) by Steve Kim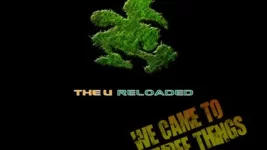 Steve Kim (k9cane) got a chance to speak with former Miami Hurricane running back Najeh Davenport about his project, "The U: Reloaded." Read here to see what Najeh has to say about the film and other topics; including former coach Don Soldinger, and the 2014 season.


Najeh Davenport, who lettered at the University of Miami and was the starting fullback on the 2001 BCS National Championship squad, was an interested observer of 'the U', which was part of ESPN's '30 for 30' documentary series that made its debut in December of 2009.
While he enjoyed the production put out by Billy Corben (a University of Miami graduate) he couldn't fully relate to it.
"I was all excited about that one, I watched and I thought it was good, "Davenport told CanesInSight.com, earlier this summer. "I was mad because I wasn't a part of it." 'The U' dealt with the rise of a dormant program that was brought to life by the vision of Howard Schnellenberger, further cultivated by the likes of Jimmy Johnson and Dennis Erickson and the eventual downfall in the mid-90's. Not much was said about the Canes renaissance of the 21st century led by Butch Davis and an unprecedented run of future NFL first round draft choices that led the Hurricanes back to prominence.
'The U' played to record ratings (as far as sports documentaries on cable go). It was around this time that Davenport began to have thoughts of telling the story of his own Hurricane experience. Originally, his concept was about the vast stable of gifted running backs that migrated to Coral Gables in the late 90's and early 2000's that included the likes of Edgerrin James, James Jackson, Clinton Ports, Frank Gore and of course, himself. It was titled 'the Tale of 5.'



''My idea started, maybe, six months before they released the first '30 for 30' and it was more so about the running backs that came out with me. I had big ideas, I was still learning and then I started getting all these interviews, collecting them up and the more I did it, it was just more than just about us as running backs but as a team, per se," explained Davenport, who added,"and they said they were doing a sequel and then when they weren't, I said,'Alright, I got all my footage. Let me finish."
And with that 'the U Reloaded: the Drive for Five' was in full production. But one problem, it turns out that there will be a sequel to 'the U' which will air on 'the World Wide Leader' this winter
. Davenport understands that there is a very good possibility that this may overshadow 'Reloaded'.
"Y'know what, it may because at the end of the day, it's ESPN," he admitted."It's a big production, they've got a big budget but my story is different. I'm not getting told this story and trying to imagine what it looked like. When my interviewees talk, I can relate to them. I can see what they're explaining to me and I was there. So I wasn't on the TV watching, I was in the locker room. I wasn't reading the articles about it - I was there when it was happening.


"So I feel when I tell my story from my perspective of the University of Miami, our run to the national championship, it'll be a little bit different from hearsay."
The strength of 'Reloaded' is the fact that Davenport was as intimately involved as you can be with the subject matter given that he was a player and had access that is often difficult to obtain. The trailers that have been posted on theUreloaded.com (posted here:
http://www.theureloaded.com/page2/trailer.html#
)
are priceless if you are a Hurricanes aficionado. The footage is often times raw and profane, which in many respects, is what makes it so compelling.
"When I was going to school, we had a student who was our video coordinator (Stu Cramer)," said Davenport, who explained that Cramer made highlight montages and hype videos for the players."So he filmed a lot and kept a lot, so I kept in touch with him when I started doing this. He gave me everything I needed."
Now, came the tough part: raising money to get this made. At first there was an unsuccessful Kickstarter campaign but eventually, the likes of Joaquin Gonzalez's older brother, among others, came in as investors. Davenport also reached into his own pocket. Davenport, realizes he isn't going to get rich off this, this is truly a labor of love. "Oh, no doubt. I'd be happy if I get my investors portion back. I'd be satisfied."
His Twitter bio it says he is a 'Documentarian' and 'film maker' along with his football background. Davenport certainly has an interest in this field, but he says with a laugh,"Honestly, this is some hard ****. This is hard."
Getting the cooperation of his ex-teammates was easy, the admittedly impatient Davenport conceded that he would get antsy as,"I had to wait for a couple of people." But there were no Warren Sapp situations, here. Eventually, 'Reloaded' crossed the goal line.
http://vimeo.com/101054668
Davenport says,"We're going to digital distribution just because of costs. So you can download it. I didn't get a lot of requests for DVD but I did get some. So we're working on that, maybe order like a thousand of them." (For those who want to order a DVD copy, you can log on here:http://www.theureloaded.com/store.html
) The documentary will premiere on August 27th at the O Cinema Wynwood in Miami. The release date is September 1st (which just happens to be the same day as Miami's opener versus Louisville)

While the 2001 campaign was the culmination of Miami's resurrection from NCAA probation, this 90-minute film is really about a particular era when an incredibly talented and hard-working group of young men who came together to rebuild a once-glorious program that had fallen on hard times. Butch Davis -- who makes an appearance in 'Reloaded' and was the architect of this incredible rebuilding job from 1995 to 2000 - put together perhaps the most talented roster in college football history.
Just think about some of the names that wore the orange-and-green from 1998 to 2003: Ed Reed, Andre Johnson, Kellen Winslow Jr. Jerome McDougle, Jeremy Shockey, Philip Buchanon, Mike Rumph, Bubba Franks, Bryant McKinnie, Antrel Rolle, Damione Lewis, Nate Webster, Reggie Wayne, Santana Moss, Ken Dorsey, Brett Romberg, William Joseph, Vince Wilfork, Dan Morgan, Jonathan Vilma, DJ Williams, Chris Myers, Vernon Carey, Roscoe Parrish, Rocky McIntosh, Kelly Jennings, Sean Taylor, Brandon Meriweather and of course, the running backs. This is just a partial list of players that wore 'the U' during this period.
This truly was Cane Camelot in many ways.
He admits, he didn't truly appreciate what he was a part of till he left Miami.
"You never really think about it, it's kind of like one of those things where you just know these guys. So you know these guys are good but everybody's good. Everybody's battling, everybody's competing. So you never really think about how good a person is until you move on, graduate," said Davenport, who suited up for the Hurricanes from 1998 to 2001. It wasn't till he was in the NFL that things were put into perspective for him."I remember playing and guys saying,'Y'all was stacked. It was one after another, after another, after another,' because from the inside looking out, we knew were were good. But we didn't know how good we were. We knew we could line up and beat the majority of teams based on just our will, not necessarily our talent but our will because we did hard workouts and stuff. But you didn't really get an appreciation of it until you go and hear other guys at the higher levels say,'Yo, y'all was good.':
Perhaps it was like growing up as a Kardashian - you think everyone grows up wealthy.
"That's how it is," he said, laughing heartily at the thought. "Like you work so hard and you get one perception of football for the last four or five years and you get to the league, you see things totally different. So you can do one or two things: you can continue to do what you've done to get to where you're at or you kinda do what these other guys are doing. And I think that's why we had a lot of success in the league because our mentalities were like,'Hey, just continue the ( Andreu) Swasey workout.' Basically that's where our drive was."
It was a special group of football players that came through 'the U' and it was also one that was closely bonded according to Davenport.


"Back then, if you seen one of us, you seen fifteen of us. And that was literally like everyday. We had cliques, inside of cliques but we fought each other and then we turned around and fought someone else," he says, chuckling. "So we were real close, really close. Even when we got into the league we were still close but it wasn't the same because we weren't there everyday. But when we see each other at the games or in the summertime working out, it was good."
Now, they are forever immortalized in 'the U Reloaded'.
COACH SOL
Don Soldinger was the running back coach during this period and one of the most respected coaches at Miami. He was an old-school taskmaster with a no-nonsense style and he was as blunt as a sledgehammer. He also could keep his talented stable of backs in line.


"Clint Portis said it, 'If Coach Sol wasn't in the room with us, the majority of time we would've been in there with pistols on each other,'"said Davenport, laughing. The first time Najeh met Soldinger was after his freshman year at Miami Central High for his football banquet. Fast forward a few years when he was on campus for an unofficial visit he was greeted by Soldinger, who greeted him warmly but as they said good-bye, well, the niceties came to a sudden halt.
Davenport recalls,"He ended with,'Bro, if you come here, you're going to have to ******' compete. We don't give **** out here, bro.'"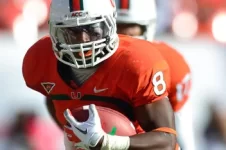 2014 CANES
So what does ol' number 4 think about this years Hurricane team?
"It's about that time, actually. It's about that time," says Davenport, who's last two years at Miami, saw him on the losing side just once. "You see all these things floating around like these web-isodes and they're definitely doing something different down there. But now, it's time to put up and shut up. We've got to do something. We've got these highly recruited players that are coming in. They just gotta want it."
Keeping Duke Johnson healthy would go a long ways to having the type of season that this program desperately needs, but Davenport doesn't believe that's the end all and be all.


"Nah, it's never on one player. That's like saying our team rested on E.J. ( Edgerrin James) that '98 season. I mean, you can't win like that, you gotta have guys coming off the bench. You gotta have - and to use a basketball term - a sixth man. You gotta have somebody in the wings that's just as good as the guys you got in there."


( Steve Kim is an avid Hurricanes fan, who's day job is covering boxing for UCNLive.com. He can be reached at k9kim@yahoo.com. He tweets an inordinate amount at @steveucnlive and has an Instagram account at @steveucnlive)