Miami offers DE Oladele, plans to visit soon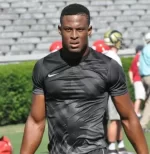 Although Miami has already established most of its top targets for the 2018 class, offers will continue to go out as a Canes coaches do their spring evaluations. When defensive line coach Craig Kuligowski wants a prospect, it means a ton -- and Edison defensive end Kayode Oladele is the most recent offer for Coach Kool.
Miami offered Oladele last Thursday, but he got word of it on Monday.
Oladele moved to the United States in 2014 from Lagos, Nigeria and said that his only prior knowledge of football was from watching videos on YouTube. When he arrived in the U.S., Oladele was about 6-2, 200 pounds, but is currently at 6-4, 235 and his coaches plan to add even more weight on him before the season. After watching Oladele's film and showing interest, Edison assistant coach Jon Drummond sent a workout video of Oladele to Coach Kuligowski and the offer came shortly thereafter.
Drummond said that aside from obvious addition of strength and size since he arrived in the country, the main improvement in Oladele's game is his movement and flexibility.
"The weather in Florida was just like how it was in my country so that adjustment," Oladele said. "I honestly didn't know much about football before I got here."
Florida State offered Oladele a few weeks back and has planned to attend their junior day this weekend, so he will miss Miami's junior day. He added that he wants to get to Miami's campus soon and that he attended multiple Canes games this year. Drummond said he will take Oladele to campus for an unofficial within the next couple weeks, as well as Miami's next junior day.
https://youtu.be/7SlnKn7e-ZM
"I think he's a really great coach and he has put a lot of great players in the pros and maybe one day I will be able to work with him," Oladele said of Kuligowski. He added that the Miami offer "means a lot".
Florida, Tennessee, Mississippi State, South Carolina, and Wisconsin are other programs that have offered him.