Miami hosted 4 important unofficial visitors on Monday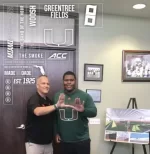 A trio of UM defensive back commits in Josh Jobe, Gilbert Frierson, and D.J. Ivey all visited Miami along with 2019 OL Dontae Lucas.
Frierson and Ivey both had an academic meeting as both are attempting to lay out a plan to enroll early at Miami. Lucas met with Coach Richt and will be back on Wednesday with his mother to meet with Coach Searels.