Looking back at Miami's 2013 offensive class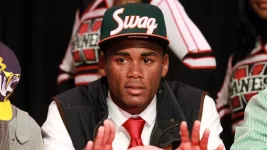 Using the 247sports composite rankings, I take a look back at Miami's 2013 offensive class. Of the 11 signees on this side of the ball, four have left the program and two did not make it on campus due to qualification issues. Tomorrow, I will look at the defensive class from 2013.
WR Stacy Coley (Northeast – Fort Lauderdale): 4-star, #64 overall, #7 WR
As a recruit
: Stacy Coley committed to the Hurricanes on signing day on ESPNU and was one of the most important recruits of the Al Golden era. Coley was considered a Florida State lean for much of the process before Miami was able to make an impression on him late. Credit then-receivers coach George McDonald for landing him, along with Terry Richardson.
How he's panned out
: After a dynamic freshman season with 10 total touchdowns and 846 receiving yards, injuries plagued Coley during his sophomore season when he had over 500 receiving yards and 7 touchdowns. Coley rebounded last year with 12 touchdowns and has added muscle this offseason where he has a chance to boost his draft stock this year. His burst as a playmaking threat is what makes him special and has the ability to have a 1,000-plus yard season if healthy.
QB Kevin Olsen (Wayne Hills – New Jersey): 4-star, #92 overall, #5 pro-style QB
As a recruit
: The brother of former Canes tight end Greg Olsen, Kevin missed his entire senior season with an injury. Jedd Fisch had his sights set on Olsen for a few years and it became apparent quickly that he was living off of his name.
How he's panned out:
Olsen had a few run-ins with the law at Miami and left the school at the beginning of his redshirt freshman season. He lacked the arm-strength, accuracy, and all-around focus to touch the field at Miami. Olsen transferred to Towson before being dismissed and is now at Charlotte, where he is in line to be the starting quarterback this upcoming season.
TE Beau Sandland (L.A. Pierce College): 4-star, #3 overall JUCO, #1 JUCO TE
As a recruit
: Sandland was considered a huge pickup and was expected to be an immediate contributor to pair with Clive Walford, who was just flashing his potential at the position. Sandland's film showed the makings of a physical tight end with soft hands, but he was never really able to show that at Miami.
How he's panned out:
Sandland's less-than-spectacular one season at Miami included 9 receptions, 94 yards, and one touchdown. He transferred to FCS Montana State where they seemed to utilize him correctly and he tallied 37 receptions for 637 yards and 9 touchdowns in 11 games. He was just drafted by the Carolina Panthers in the 7th round of the 2016 NFL Draft.
TE Standish Dobard (Edna Karr – New Orleans): 4-star, #234 overall, #7 TE
As a recruit
: Dobard came to Miami out of Louisiana as a big name recruit because of where the Canes got him from. He was viewed as a balanced tight end who needed to drop some baby fat in order to gain some burst.
How he's panned out
: Dobard has just about average at Miami. He has 14 career receptions for 252 yards and 1 touchdown, but has been utilized mostly in the blocking game. His hands must be more consistent and we will see if he is in improved shape heading into his senior year. Ideally he would have been a prime redshirt target, but he was forced to play his freshman season.
OT Sunny Odogwu (Hargrave Military Academy – Virginia): 3-star, #23 overall prep, #2 prep OT
As a recruit
: Odogwu was viewed as a project at offensive line with an impressive frame and basketball background. Odogwu has battled a few injuries during his career, including missing spring practice recovering from surgery on his right knee. He was Miami's starting right tackle last season as a redshirt sophomore, and is expected to be a major contributor on the line this upcoming season. He needs to take the next step and become more consistent under new position coach Stacy Searels.
RB Gus Edwards (Totenville – Staten Island): 3-star, #677 overall, #42 RB
As a recruit
: Edwards chose Miami over Florida State on signing day in what was considered a late steal by the Canes staff. Edwards came onto the radar late in the process as a versatile power back who also flashed some potential to play a hybrid fullback role down the line.
How he's panned out
: Now 6-1, 235-pounds, Edwards had 11 combined touchdowns in his first two seasons. He was expected to get a bulk of the carries last season before injuring his foot in fall camp and missing the entire season. He will be a senior this upcoming season, but will have the ability to apply for a medical redshirt after next season if he wants to. Canes fans are looking for him to use that physical frame to be a dependable short-yardage back and bring a power element to compliment Joseph Yearby and Mark Walton in the backfield.
OT Alex Gall (Moeller – Ohio): 3-star, #819 overall, #61 OT
As a recruit
: Although he was listed as a tackle, Gall was always projected to slide inside and play either guard or center. He showed some toughness on film, but also looked like a redshirt candidate from the jump
How he's panned out
: Gall will be a senior this season and he has been mediocre thus far. He was forced to see the field his freshman year mostly on special teams, before playing in five games his sophomore year, and starting seven games last year. It appears that he will struggle to crack the mix this season, unless injuries require him to play.
RB Ray Lewis III (Lake Mary Prep – Lake Mary): 3-star, NR, NR
As a recruit
: Many believed Lewis' offer was only because of the fact that his father is who he is. He was smallish and lacked game breaking speed to make up for it.
How he's panned out
: It's been rumored that Lewis III was never actually a scholarship player at Miami, and for good reason. He was constantly in Al Golden's doghouse at transferred after the 2015 season to Coastal Carolina. He was moved to cornerback after his first year at Miami.
RB Walter Tucker (American Heritage – Fort Lauderdale): NR, NR, NR
As a recruit
: Tucker was a post-signing day find by Golden's staff. He was known for being Sony Michel's backup at Heritage, but was a track star who appeared to have a
future as a faullback.
How he's panned out
: Tucker played in 7 games over two seasons before ultimately leaving the school after last season. Tucker was beat out by walk-on Gage Batten for the starting fullback role last season, and word is he wanted the chance to play running back elsewhere. Tucker is expected to be at FIU next season, but will have to sit out a year due to transfer rules.
Signed, but never made it on campus
WR Derrick Griffin (Terry – Texas): 4-star,
#40
overall,
#5
WR
ATH Ryheem Lockley (Middlesex – Virginia): 3-star,
#753
overall,
#5
6 ATH