Looking back at Miami's 2013 defensive class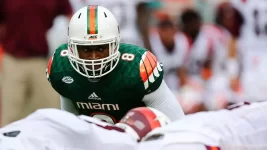 DE Al-Quadin Muhammad (Don Bosco Prep – New Jersey): 4-star, #47 overall, #5 SDE
As a recruit
: Muhammad was a huge get for Al Golden's staff as the Canes came in late to secure his commitment at the Army All-American game. He chose Miami over Alabama and Notre Dame and was viewed as a premier pass-rushing prospect with explosiveness off the edge. It was no secret that he needed to add weight either.
How he's panned out
: Muhammad has had an up-and-down career thus far, but expectations for him are still high this season under Coach Kuligowski. He is currently caught up in a potential compliance issue, but is expected to stay on the team. He had a team-high five sacks last season and was forced to miss his sophomore year with suspension. It goes without saying that he needs to be more productive this season to raise his draft stock.
S Artie Burns (Miami Northwestern): 4-star, #96 overall, #12 safety
As a recruit
: Out of Northwestern, Burns was considered more of a pure athlete with an extremely high ceiling than a star football player. 247 had him pegged as a safety as did some, but his length and upside at corner was the deciding factor in him playing corner at Miami and that turned out to be the right move. Some said that he had the potential to be an Olympic-level hurdler if he stuck with track.
How he's panned out
: Burns saw the field right away at Miami and interestingly enough, the most important play of his career might have been his field goal block freshman year in Chapel Hill. Burns' production was never at an All-American level, but he made enough plays and still shows tremendous potential. The Steelers selected him with the 25th pick of the 1st round this year.
ATH Corn Elder (Ensworth – Nashville): 4-star, #199 overall, #7 ATH
As a recruit
: Elder had was another post-signing day prospect that Miami ended up grabbing and sort of came "out of nowhere". He chose the Canes over Georgia Tech and had aspirations of playing basketball as well before a minor knee injury after his first year in Coral Gables. He was an explosive two-way star who some believed could be a major offensive weapon, but the decision to play him on defense has been a wise one.
How he's panned out
: His breakout year was last season when he emerged as a playmaker for the Canes defense. Although he only had two interceptions, he tallied 41 tackles and was utilized as a blitzer as well. The signature moment of his career is guaranteed to stand strong in Hurricanes lore with "The Return" against Duke. Elder is a projected mid-round pick headed into his senior season.
S Jamal Carter (Southridge – Miami): 4-star, #247 overall, #22 safety
As a recruit
: Carter was an exciting commitment for Miami fans out of Southridge because he showed flashes of being a freak athlete at a prime time position. Former Canes coach Don Soldinger even praised Carter's ability in the weight room when he was in high school. The questions with him stemmed from his ability to cover.
How he's panned out
: At 6-1, 220, Carter has been inconsistent in coverage, but has had his fair share of big pops in run support. This is a pivotal year for Carter. He should benefit tremendously from playing in the box in Manny Diaz's aggressive scheme.
LB Jermaine Grace (Miramar – Hollywood): 4-star, #288 overall, #19 LB
As a recruit
: Grace committed to Miami over Louisville on signing day after being a long-time Canes lean. He played his high school career mostly around 195-200 pounds and was looked at as an explosive backer who excelled in coverage. Never had the frame to be a huge linebacker, but has made it up to about 215.
How he's panned out
: Grace led the team in tackles with 79 last season. He was a rotational linebacker up until last year when he made his first start, but is going to be the leader of that group this upcoming season where two true freshmen are expected to start. I have high expectations for him.
LB Alex Figueroa (Fork Union Military Academy – Virginia): 3-star, #22 overall prep, #1 prep LB
As a recruit
: There was a lot of hype surrounding Figueroa out of prep school, as many looked at him as "underrated". His length and speed intrigued Canes fans and he showed flashes of that early in his Miami career.
How he's panned out
: He was dismissed from the team after rape allegations derailed his football career at Miami. He started for the Canes as a freshman and had a standout performance in their win against Florida in 2015. From my research, he was enrolled at Garden City C.C., but is no longer playing football.
DT Ufomba Kamalu (Butler C.C. – Kansas): 3-star, #28 overall JUCO, #7 JUCO DT
As a recruit
: Kamalu was a much-needed boost as a JUCO recruit to a youthful defensive line. He was expected to become a solid contributor at Miami and was essentially just that.
How he's panned out
: Unfortunately, Miami needed much more than Kamalu to have a successful defensive line. During his three seasons at Miami, he totaled 8.5 sacks and started nine games his senior year. He was never anything more than above average, but he's another prospect that you wonder what he could have been if he received proper coaching.
DT Hunter Knighton (Hun School – New Jersey): 3-star, #831 overall, #57 DT
As a recruit
: Knighton came to Miami as a two-way player who most expected to move to the offensive side of the ball. He was not viewed as a game-changer as a defensive lineman, but Golden's staff thought he could be serviceable as an offensive lineman.
How he's panned out
: Knighton redshirted his freshman year and then suffered a heat stroke during team workouts during the start of his redshirt freshman year that forced him to miss that that season. He was a special teams contributor last year during his redshirt sophomore year and could be a factor on the line this season.
Signed, never made it to campus
OLB Devante Bond (Sierra College – California): 3-star,
#161
overall JUCO,
#12
JUCO LB