Frierson recaps 1st of 2 Miami visits this week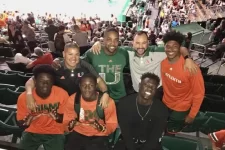 Miami hosted all four of their defensive back commitments on campus Tuesday afternoon -- Gilbert Frierson, Josh Jobe, Gurvan Hall, and D.J. Ivey were all together in Coral Gables and hanging with Coach Rumph and Coach Banda.
Frierson spoke briefly with CanesInSight on Wednesday about the visit, which has become a common practice for the trio of him, Jobe, and Ivey.
"It was a good time chilling with our future class and especially our DB group that we'll be playing with next year," he said.
"It gets us excited for the future -- we just like being around each other and making our bond better while growing that trust," Frierson explained.
Following Randy Russell's decommitment at safety for Miami yesterday, Frierson said that the plan is still for him to come to UM as a cornerback and play that position. Canes coaches conveyed that message again to him during their meeting, according to the Coral Gables HS prospect.
Frierson added that he will be back on Miami campus this weekend for 7-on-7 camp, where he will participate with his high school teammates. He sat out the first few months of the year after a foot injury and was able to play spring football with the Cavaliers. He did not do any 7-on-7 prior to spring football, so Miami coaches are excited to see him in action.