Film Room: Jonathan Garvin is EATING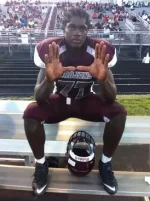 Earlier this week, I spotlighted Miami defensive end commit D.J. Johnson. This edition of the film room features Canes DE commit Jonathan Garvin, out of Lake Worth HS (FL).
Garvin committed to the Canes last month and has been on a tear this season. He has 12 sacks on the season including 7 in the preseason game against Glades Central. As you can see below, the competition is not incredible but he flashes elite burst and length as a pass rusher off the edge. Once refined, he looks like he could be a force. Check out some of his top plays on the season.
Note: Scroll over the play to get a full description.
[VINE]5rMhQ7a1udu[/VINE]
[VINE]5rMMhEYnXda[/VINE]
[VINE]5rMODmwx9rm[/VINE]
[VINE]5rOAdOAYZpe[/VINE]
[VINE]5rOAEjDYmMH[/VINE]
[VINE]5rObz7a0Enj[/VINE]
[VINE]5rOMX1qLmFe[/VINE]
[VINE]5rOMYVp27jd[/VINE]
[VINE]5rOe1uZKd3l[/VINE]
[VINE]5rOi3bdFLOZ[/VINE]