DT Ford says he's set to enroll Sunday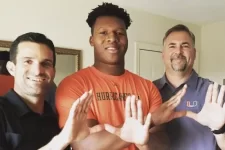 The final member of Miami's 2017 signing class is set to officially arrive on campus this weekend.
Defensive tackle Jon Ford, a local product from Dillard High School and Miami's lone signeee at the position, told CanesinSight that he's been given clearance to enroll this Sunday.
Miami remained optimistic over the last month that Ford would qualify. Yesterday, defensive coordinator Manny Diaz equated Ford to "a present under the tree that you forget about."
Ford would be able to practice beginning Monday, but is not allowed to wear pads until his 5th day of practice due to NCAA rules.