DL Briggs coming to JR day, hoping for offer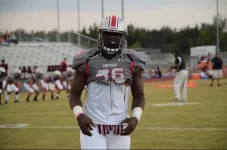 With Miami holding their first junior day of the 2018 class on Saturday, it should be an eventful weekend of recruiting news. Not only could there be a commit or two, but expect multiple offers to go out as well. One possible new name on the board could be DL Dennis Briggs of Gateway HS in Kissimmee, Florida.
"I'm aggressive, can read plays well, and quick off the ball. I'm good using my hands too," Briggs said. "Most of the offensive linemen I face don't have a long reach, so my long arms help me to get around them.
The defensive line prospect says he is currently at 6-4, 255-pounds, adding 10 pounds since the end of his season, which he attributes to just hitting the weight room.
"I see myself moving around a bit. Before I used to think I was only a defensive end, but now I have a better view and see that I can play defensive tackle too. I wouldn't mind it at all," Briggs said.
[HUDL]video/3/4331254/57e340d190f994051cb3f748[/HUDL]
Briggs will be visiting Miami this weekend for their junior day, where he is hopeful he will receiver an offer from the Hurricanes.
"It would mean a lot. Growing up, watching them on TV, it would be a dream," Briggs said. "They are a program that plays for championships and they are about their business."
"I'm just looking to meet most of the staff and get a better view of Miami. I want to get a chance to meet Mark Richt and have a conversation with him," he said. "Coach Kuligowski is a really great person who cares about his players and hopefully I get to know him more over the next year."
Briggs says he watched Miami's defense "quite a few times" last season, including the impressive performance against West Virginia in the bowl game. He said, "They are very aggressive and savages, basically. That's the best way to describe them."
The Kissimmee product plans on checking out UCF, UF, and FSU in-state as well in the spring time and into the summer. Louisville offered him yesterday.
Here is an excerpt on Briggs from a recent article in the Orlando Sentinel, who ranked him as the number-2 player in Central Florida after Canes 5-star commit Lorenzo Lingard.

We're giving Briggs, ranked No. 2 overall in Central Florida, the edge over No. 3 Kirby at this time, but both of these guys can bring the hurt.

Briggs is 6-foot-4, 235 pounds of pure nasty and brute strength. What's crazy about Briggs is that with him being tucked away in the Osceola County recruiting abyss, not a lot of coaches know about him.
Defensive linemen Dennis Briggs, Stacy Kirby among top area juniors - Orlando Sentinel