Diaz wants Canes to prove they can "take a punch"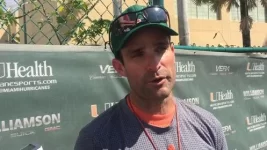 Miami's defense leads the country in sacks and tackles for loss. They are 2nd nationally against the run, 3rd in total points allowed, and 11th in total yards allowed. Regardless of the competition, this is how Canes fans had hoped to see the defense playing at this juncture.
Defensive coordinator Manny Diaz is not impressed, though.
"We still haven't shown anything on defense, offense, as a football team – until we have proven that we can take a punch. Anybody can play when it's 70-3," Diaz said.
"The Miami Hurricanes have not shown anything different. When things are good, we're good. But that's not what defines great teams. Great teams are defined by when things are bad, we're still good."
"Playing on the road, with everybody yelling at you, the atmosphere is going to be electric. We've got guys that have never traveled in a college game before. I think there's guys who have never been on an airplane before," Miami's DC added.
The linebackers, despite concerns about depth and experience, have been tremendous for the Hurricanes defense. What they lack in experience, they've made up for with speed and instincts.
"They have keys. In a one-gap system, they're responsible for aligning in their gap and keying whatever their movement key is – whether it's a back or a tight end or whatever it is on that particular week," Diaz said. "We do talk about when we see what we need to see that we get there fast. That's why guys like the young guys have embraced that and not tired to complicate the game."
"When you don't have experienced guys, you have to break things down in a simple manner, where they can be aggressive going where they need to go."
Darrion Owens saw his first game action for Miami last week against FAU since undergoing knee surgery from about a year ago. Coach Richt said today that he still sees a "little hitch in his giddy-up" when referring to Owens, but Diaz explained that the snaps he played last week were moreso about getting his feet wet.
"For weeks now, the doctors have been telling him, 'your knee is structurally sound', Diaz said. "So it was not an issue of being able to injure yourself further, but you have to just be around loud noises and get up from those collisions and say 'everything is still ok'."
"We need him, for sure. Even just the 20-someodd snaps he gave us on Saturday were important, and that's probably going to have to grow as time goes on – not just because of his age and experience, but certainly because of his size. He adds a little bit of a different element inside."
On this week's matchup with Appalachian State, Diaz praised their ability to run the football.
"They're a blue-collared, hard-nosed football team," Diaz said. "Our guys are fully aware of what they do in the run game."
"They're an inside-and-outside zone team. They're going to run it and then you're gonna stop it and then they're going to say 'stop it again'. It's a battle of wills."
Their rushing attack is spearheaded by Marcus Cox, who has gone over 100 yards in each of the first two weeks.
"He knows where the cuts are and he does a great job of getting in-and-out of the tackle box. Once he sees the hole, 'bang' you'll see him explode through there," Diaz said.
The key for Miami's defense to limit the effect of their ground game might be more psychological than physical.
"You have to be in the mood to stop the run on every play. If you just lose your attention span for a little bit…the four-yard gains become 14-yard gains or more than that.
Visit CanesWear.com for your Miami Hurricanes apparel needs! CanesWear will have the new fall line of DymeLyfe in stock this week.