Brevin Jordan recaps ND game + talks QB Williams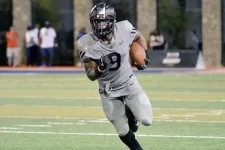 Miami 2018 tight end commit Brevin Jordan was in Miami this weekend to watch the Hurricanes make a statement against Notre Dame. Jordan recapped his trip with Canesinsight.
"It was just crazy, dude – it was insane. When I committed to Miami, a lot of people were talking mess about how fans don't go to the games, so when I went to the game yesterday it was just insane," Jordan said. "It was so loud that your ears…you could just feel it. It was crazy."
"They disrespected us after we beat Virginia Tech, so the hate is for sure still real. Even though were number one or two in all these different rankings, they don't want to see Miami rise again. College football is scared to see Miami at the top," he said.
One of the best things about the weekend according to Jordan was being able to hang around his future teammates, which is something he is not able to normally do as a Las Vegas product.
"I met a lot of them at The Opening, but being at the game with all of them and kicking it in the lounge with them and stuff was real cool. We all have a pretty close bond, so getting the dub yesterday and doing it like that was great," Jordan explained.
The Canes had a number of commits in the building for their huge win over Notre Dame, but right at the top of the priority list is QB Jarren Williams, who is UM's top choice at quarterback for the class now.
"Aw man, he loved it. I personally think we get him and have him in the bag. I thin we got him to be honest with you," Jordan said about Miami's chances of landing Williams.
In addition to Williams, the Canes TE commit says, "the fullback Realus George is gonna commit soon."
Jordan has been having himself quite the season at Bishop Gorman, logging 47 receptions, 956 yards and 13 touchdowns.
"My main motivation is just to perform to the best of my ability so I can just go and be ready. I don't want to be the freshman that everybody questions. I want to go to Miami next year and be an absolute stud right away."
Jordan will be back in Coral Gables for his official visit on December 16th weekend with the rest of the Storm 18 commits and top targets. His message to Miami fans after last night?
"The Canes fans are crazy. They're the best fans in college football. They're better than Michigan fans, better than all the Florida fans. Canes fans have a different swag to them."