2018 WR Warren Thompson talks Canes.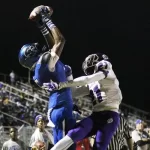 Davenport FL — 2018 Armwood WR Warren Thompson is one of the top wide receivers in the nation. Thompson has offers from nearly every school in the country, but there's four schools that are really standing out.
"My top four is Miami, Florida St, Florida and North Carolina — In no order," he said.
While Thompson has relationships with Jimbo Fisher, Larry Fedora, and others, he says there's one coach that he has the strongest relationship with.
"I love the the Hurricanes," said Thompson. "I sat down with Mark Richt and he told me how he was going to use me in their offense. I really love how Mark Richt coaches and what type of guy he is.
Thompson is visiting Miami this week, but there's a special someone that's making her first trip to Coral Gables this weekend — His Mom,"
"I think she's going to love it, just the atmosphere and the beauty of the campus."
Here's how Thompson feels about the other programs in his top four.
North Carolina: "I don't really care about leaving the state, and I really like how North Carolina is recruiting me and the way they run their offense."
Florida St. "It's home."
Florida: "I'm so comfortable with them," said Thompson "When I go up to Gainesville, I'm at home."