2018 LB Pierre one to watch for Miami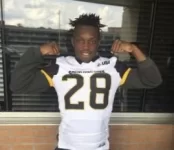 Miami defensive coordinator Manny Diaz saw Deerfield Beach a few times over the spring and last week he offered 2018 linebacker Ashtan Pierre. The lengthy hybrid player shows versatility on film and is the sort of physical specimen that Diaz is willing to mold.
"When they came to my practice, I really didn't know if they were going to offer me or not but I just had to do my job and work hard," Pierre said. "I've been a big fan of Miami for a long time. Ever since I was growing up I was watching their games and all that."
Last season, Pierre played a lot with his hand in the ground, but he said that he is playing more of an outside linebacker role this year. Pierre added that he has been dropping back into coverage more and he had two interceptions in practice the day that Miami coaches came by and offered.
He plans on visiting Miami unofficially over the summer and wants to go to Canes home games during the season.
Other offers that Pierre holds include Oklahoma, Ole Miss, Iowa, South Carolina, Pittsburgh, Baylor, and Kentucky. He said that he does not have any plans to commit in the near future.
Pierre is currently weighing 207 pounds.
[HUDL]video/3/6041743/58050fd2bd75200dbce9bce4[/HUDL]