2018 5 Star Wide Receiver Talks 'Canes After Weekend Visit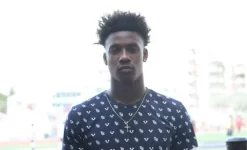 He is as elite a prospect as there is in the nation.
At 6'2" 192 lbs, Bossier City, Louisiana, wide receiver Terrace Marshall is a highly sought after commodity. Marshall is the second ranked receiver in the nation according to 247sports.com, and ranks 15th in the composite rankings.
The 2018 five star recruit was a monster at the Pylon 7v7 tournament in Miami Beach Saturday, and showcased his style of play.
"I can get physical," Marshall said. "But I got good speed, good hands, and it's hard to catch me."
Marshall has been hard to catch on the field during his high school career, and elite schools have taken notice.
"I don't have a top yet," Marshall said. "But the schools that are coming after me hard, I could say, are Texas A&M, LSU, Texas, Oregon, Miami, Nebraska -- schools like that."
Marshall has been talking to the 'Canes since January, but visited campus for the first time this weekend after coming to the tournament with his 7v7 team.
"I'm a little interested," Marshall said. "I visited yesterday and I really liked it."
The receiver sported a Miami wristband Saturday when he entered the park, and said the visit went well.
"It was nice," Marshall said. "We toured the campus and stuff, we ate, and I talked to Coach Richt."
"He's a very nice coach, from past history, and I really liked him."
But although Marshall began to develop a relationship with Richt this weekend, he already has a "really good relationship" with Coach Dugans.
Marshall said that when Miami offered he began to think about them, and said that he is interested in Miami and his other top schools "equally." Marshall did say; however, that LSU and TCU have been recruiting him the longest.
The receiver described his recruitment as "wide-open" at this point, and listed Dugans on his list of the top relationships he has on the recruiting trail.
At this point in the Miami Hurricanes' 2018 recruiting cycle, Marshall is a large unknown. And with commitments at the position that already include Hightower, Pope, and Wiggins, the 'Canes will have to put in work if they want to cash in on the out-of-state product.