Joined

Oct 11, 2012
Messages

10,540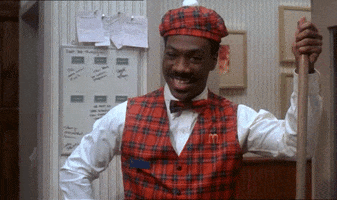 And by "Akeem" I mean UM's starting WR unit.
I was at the game today. My boy X got me tickets, sat with his family. I was told the young WR's would get lots of opportunities today, specifically X. (per Likens mouth)
Didn't see what I hoped for.
This was my first game since the Covid. Pretty awkward experience. I must say, with the current situation I much rather watch it at home. I didn't enjoy being reprimanded by the Hard Rock Mask Enforcement Agency every time I lowered my mask to get a breath of fresh air or a sip of my delicious $19 soft drink. This fvckin' guy in our section was like a gotdamn gnat!
And man, I know we won but for some reason it didn't feel like that afterwards. Now that I'm back home and just finished giving a petite silicon-breasted Cubanita the best 2.5 minutes of her life...I'm sitting here with a fresh order of extra crispy lemon pepper wangs and a side order of optimism. (or maybe it's just the Cubanita and LP wings that have me feeling this way)
OFFENSE
I'm as frustrated as many of you are, but I'm trying to look at things from a different perspective. Pitt plays a PRESS QUARTERS coverage, which is basically just Cover-0 with the CB's beating up the WR's at the line. We already know how our WR's struggle against 1-on-1 press coverage, so I didn't expect anything from them this game anyway. Even FIU and UAB played press on our WR's. They're THAT bad! When your outside WR's have ZERO SHOT to get open, it severely limits your offense. Let me put it into perspective for yall...
There's 5 eligible WR's on every play, but generally the offense only uses 4 since most of the time the RB stays in for protection.
If I can effectively eliminate 2 of those WR's by "canceling them out" via press-man coverage, that means I can play zone/brackets versus the other 2 WR's with my remaining 5 defenders in the secondary. (which will completely take away the middle of the field)
So for those of you that are wondering why we don't throw to the middle of the field more, it's likely because it's a 5-on-2 matchup within the hashes (in favor of the defense).
Before we give Lashlee too much sh!t, let's consider those facts. Let's also consider HOW he was able to generate 31 points versus a defense that hasn't given up 31 (in regulation) all season.
*If a defense is going to play press Quarters (aka Cover-0) then the one place you can exploit them is getting your RB involved the passing game via the middle. Lashlee employed this idea for our first TD. The Safeties have no choice but to cover the slot WR's. So if the slot WR's run the Safeties off, your RB will be one-on-one with a LB. Well what's an easy way to get that RB open? Run a fake QB run, pull the Guard to suck the LB's in, then sneak the RB right down the pipe. TOUCHDOWN. Creative call by Lashlee to scheme up a wide-open pass catcher.
*Another way to screw with press-man coverage (or any match zone coverage) is to run bunch sets and/or have WR's cross as they're stemming their routes off the LOS. This screws with the distribution of coverage responsibilities and can sometimes lead to busts in coverage. We just saw it on Waddle's 90 yard TD in the Bama/Georgia game, and we saw it earlier today on Harley's long TD. The distribution of routes by our WR's caused 2 Pitt DB's to cover the same guy and leave Harley wide open. Again, Lashlee scheming up a wide open WR.
*Earlier in the game we ran a formation that had Cam Harris set-out wide at WR and only Will Mallory in the backfield. When I saw this I said "WTF are we doing? This is obviously a QB run!" I originally thought it was a terrible call because as a DC I KNOW you're not handing the ball to Will Mallory, I'm thinking QB run immediately. Well it got stuffed and I was thoroughly SMH. Well remember how Lashlee ran an unsuccessful play early in the Louisville game, only to come back later and run a wrinkle off that SAME PLAY (that had Rooster running wiiiiiide open for a TD)? Well he did it again today. Lashlee came back to that same formation and this time FAKED the QB run and had Mallory run wide open up the seam.
We don't have the skill or talent to beat anybody one-on-one, so Lashlee is forced to use creativity to scheme guys open. On all 4 of our TD's today, guys were SCHEMED open.
Now, am I happy with everything we do on offense? No. But you have to be objective and look at the circumstances. WE FVCKIN' SUCK ON THE OUTSIDE! And as I mentioned earlier, when you can effectively "cancel out" two WR's, that leaves the offense with a very unfavorable numbers disadvantage. (specifically 5-on-2)
I also might add that being at the game, and having an endzone vantage point, allowed me to see that King does in fact miss wide open WR's at times. Folks, I know we're excited to finally have a decent QB, but he's far from the goods. Other than his occasional scrambles, he ain't exactly doing the offense any favors either. His vertical throws are usually pretty terrible. And the times that we do have WR's open in the middle/intermediate part of the field, he doesn't see them. (starting to wonder if that's a height thing) One could argue that height attributed to his first interception. And his second INT was a phenomenal call by Pitt's DC. That actually is supposed to be the open throw versus press-quarters, but Pitt called a "trap" coverage on that play, figuring that we would throw a route to the sticks. If you watch the CB on that play, he shows man coverage for like the first 5-7 yards and then converts into a Cover-2 zone. He was right there for that route. Great call by their DC.
As far as not being able to run the ball well...
Pitt makes it tough on their opponents. Again, they basically play Cover-0 and their defenders are aggressive towards that box. The only way to loosen them up is to win at WR, and our guys can't do it. Until we get those young guys rollin, or recruit some better talent, Lashlee will have to keep being creative to scheme guys open.
DEFENSE
I've said my part over and over again. Nothing has changed. Same sh!t, different Saturday.
SIDENOTE
: I bought a throwback UM Starter jacket today. 2 Live Crew style baby! Now I just need a gold rope chain if anybody's got one for sale.
Last edited: