Joined

Jun 12, 2012
Messages

11,482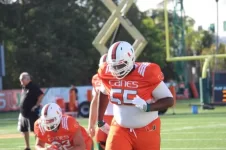 Miami offensive line coach Stacy Searels spoke for the first time at spring practice today. The Hurricanes look to bring back an improved unit with a strong infusion of talent from the 2017 class.
"I like the group and the group that will be here in the fall. I like that our numbers will be back up. There oughta be a lot more competition when everybody gets back out here," Searels said. "This spring, we're filling it out with some guys moving around at new positions. It's a very fluid first five, I guess you could say. We've got a long ways to go."
"We should have 16 kids on scholarship once fall gets here. 16 guys who will compete and a lot of guys who have played ball and are very capable of playing winning football, so I do think we will have more depth," Searels said.
Miami's first unit on the offensive line for week one of spring practice has been Tyree St. Louis at left tackle, Trevor Darling at left guard, Tyler Gauthier at center, Kc McDermott at right guard, and Navaughn Donaldson at right tackle. Searels explained the process behind mixing and matching and what he is trying to accomplish with spring.
"We're not sure exactly where the starting five is. We know we have some guys who are capable of playing, but it's just getting them in the right spots. I think that's what spring is for – just to build some continuity. First of all, we have to identify who the best five are and then where do they fit best," Searels said.
One guy who has definitely caught coaches' attention is freshman lineman Navaughn Donaldson, who Searels spoke about today.
"Navaughn coming in here has really picked up things quickly. He's a very intelligent young man. The thing we have to do is keep getting him in shape and conditioning him, but boy he's worked his tail off this offseason."
Also impressed with Donaldson is fellow Central rocket Trevor Darling.
"He's transitioning good, I like his work ethic," Darling said. "I knew my high school coach 'Chop' was going to get the best out of him, so that's what he instilled in him."
Center Tyler Gauthier expanded on Donaldson's potential.
"He's a manchild. Man, the kid's huge. He's got great potential, but he's probably going to be a great football player here. He's still learning the playbook and all that and he's having the same freshman mess-ups as everybody, but he should be a good football player for us," Gauthier said. "He had a double-team block the other day for us and just took that down lineman and put him all the way across the field – it was really impressive for a freshman to come in and do that."