Joined

Jul 19, 2016
Messages

50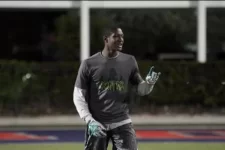 At 6'1", South Dade defensive back D.J. Ivey makes an impact with his length. After missing his entire junior year due to a foot injury, Ivey is ready to make his presence known going into his senior season.
At the first annual NGHTMR 7-on-7 tryout this past Friday, Ivey began his road back into the spotlight, and showed why Miami offered him early in the process.
[TWEET]820124979287195648[/TWEET]
"I hear from them [Miami] a lot," Ivey said. "Every other day I get a call from Coach Banda or Coach Rumph and we have conversations."
Ivey said he has a "tight" relationship with Coach Rumph and the staff, but made it clear that one of the most important reasons why he chose Miami was the ability to play early.
"They actually play freshmen," Ivey said. "Joseph Jackson, Shaq Quarterman, people like that; they actually play freshmen not just put them on the bench."
As Peter Ariz wrote in his NGHTMR 7-on-7 tryout notebook, Ivey has selected the nickname "Young Artie" after Artie Burns, and wields a lot of the same tools do to his length and physical makeup.
According to 247sports.com Ivey and Burns had identical size and weight in high school, and as Peter Ariz noted, he should garner more national attention after recovering from his injury.
Ivey also holds offers from schools such as Louisville and West Virginia, but is solid too Miami in large part due to the relationships with their staff.
"It is very important," Ivey said. "We get the same vibe, I'm very comfortable being around him."
Ivey has seen Rumph develop young cornerbacks such as Malek Young during his first year at Miami and knows that if he has the ability to play early if he puts in the work.
"It makes me view that if as a freshman I put in the hard work I will be able to play."
Last edited by a moderator: