Williams showing he has plenty of potential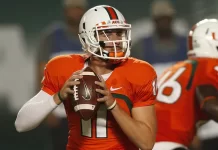 Ryan Williams has been through more than most during his football career. After winning a state title his senior year of high school in 2009 at local powerhouse Miramar, Williams headed to Memphis for his freshman year of college.
The 6-6, 225-pound QB started for the Tigers during his true freshman year, and transferred to Miami following that season in hopes of competing for a starting job.
"The maturity I have started as a freshman when I was at Memphis and started as a true freshman. I had to sit out a year when I came to Miami, but I was able to learn from Jacory (Harris) and Stephen (Morris) for a couple years," Williams said.
Heading into his redshirt senior year at Miami, Williams was all set to be the starter before a knee injury in the spring forced him to sit out. This setback has only strengthened Williams' mindset.
"To finally get the opportunity to play and then get hurt was kind of devastating, but it helped me learn a lot about myself," he said.
One of the main attributes an NFL quarterback must have is likability within the team. This is a major strength for Williams.
"I have the ability to have a team trust in me and have the control over the offense that I can go out and win the game by making plays and elevating the level of others around me. I'm calm out on the field and make sure my teammates are making the right plays out there and make sure they can all look at me for support."
Williams was a shining star in the Medal of Honor Bowl back in January, where he earned MVP honors after tossing for 115 yards and a touchdown.
"It was fun to get out there and meet some different people and you've got to learn different players really quick because we're only out there for a week. I thought we did a good job of getting on the same page in that short period of time."
What is an NFL team getting in Williams? He hopes to show that he still has a lot left in the tank.
"They are getting a winner. Somebody who can come in and win games. Hopefully they see the potential even though I have limited film, but I want to give them a good show at pro day. I have a lot of football left in me. My body isn't beat up since I haven't played as much and hopefully I can prove that."
Miami's pro day on April 1st will be a huge opportunity for Williams to show his skillset off to NFL scouts.
"I want to show that I can make that transition to the NFL smoothly and that I can make all the throws and my knee is fine. The knee is not a problem with anything and people will see that."
Another factor working in Williams' favor is his understanding of an NFL playbook. He was able to play for former Jaguars OC and current Michigan QB coach Jedd Fisch for two years at Miami.
"It was big to come in and run an NFL offense. He (Fisch) treated you as an NFL player and he gets you ready for that type of level. It will help my transition to the next level."
Williams' mentorship of true freshman QB Brad Kaaya this past season is an example of his ability to help his teammates perform at the highest level.
"We spent so much time together with Coach Coley. All through camp I was hurt so I was more of a coach all summer while he (Kaaya) was here. Even during the season we would work with him on the game plan and I would talk to him when he came off the field, so I think him having that support from the other quarterbacks was big for his development."