Update at WR as true frosh Richards deals with turf toe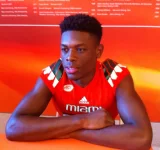 One of the most notable things from Richt's media session after Tuesday morning's practice was him mentioning that freshman WR Ahmmon Richards has been dealing with turf toe and has not been at 100% speed. Richards had been one of the most electrifying players on the roster over the course of the first week of camp.
A source told CanesInSight that Richards has not been participating during the competitive parts of practice the last few days. Miami's coach also said that Richards had looked "really good" prior to the injury but that, "he's really not what he was".
A couple guys stepping up in Richards' place – Dayall Harris and Malcolm Lewis.
The JUCO transfer Harris "is ahead of everybody" at the X-receiver spot, Richt said. Richards and Darrell Langham are battling for the spot behind Harris, but the situation could change when Richards gets healthy, he added.
Richt called the redshirt senior Lewis "very reliable and very consistent" and added "He's going to play a good bit for us." The coaching staff is teaching Lewis the X-spot in Richards' absence.
Sam Bruce's progress was summed up in a nutshell as Coach Richt described a touchdown reception he made near the end of practice.
"He's still learning what to do – that's part of his issue," Richt said. "The last play of red zone, he ran the wrong route and true to form around here, we threw it to the guy who ran the wrong route and he scored, so maybe we invented penicillin there."
More coming on Dayall Harris later today from CIS's David Perez.