UM sprinter Brandon Taylor giving football a go this spring
Miami Hurricanes freshman sprinter Brandon Taylor will give football a go this spring, a source told to CanesInSight on Friday. Taylor was the fastest sprinter coming out of Texas in the 2016 class -- he was timed at 10.38 at the Texas Southern Relays in March 2016.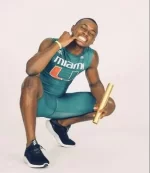 Taylor was a 2-star football recruit coming out of Clear Brook high school in Friendswood, Texas last year, mainly due to his size of roughly 5-7, 150-pounds. When he committed to UM for track, he expressed his interest in playing football at Miami. Due to NCAA policy, Taylor was obligated to honor the first part of the track season before he can move to the football field -- which is why Taylor was not with the team this past season. He will also remain on the Miami track team.
Although his size might have scared major football programs away, Taylor showed tremendous ability as a return man in his highlights, which is certainly a role where the Canes could use an upgrade. He also played wide receiver and running back in high school.
[HUDL]video/3/1931377/5721c86b0c5e6812249eb76a[/HUDL]
More from his official bio on the HurricaneSports.com website:
Taylor also is the 2016 USATF Junior Olympic Champion in the 100m and won a gold medal at the 2016 World Junior Championships in the men's 4x100m. Taylor is ranked No. 1 in America in the boys 60m dash with his time of 6.78. He won the Texas A&M Invitational, Carl Lewis Invitational and the McNeese Invitational. Taylor placed third in the 100m with a time of 10.40 seconds at the 2015 UIL 6A State Meet. That time ranks sixth among returning men's 100m times in the country.
Taylor is on track scholarship and he would only transfer over to a football scholarship if he played in a game. So if the coaches feel like he can make a meaningful contribution, it's the worth the chance. In all likelihood, the coaches will give him a look in spring practice and see if it's anything worth pursuing long-term.