UM signee DJ Johnson posts 100M PR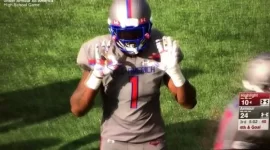 6-5, 250-pound Miami defensive line signee DJ Johnson posted a personal best 100M time on Saturday with an 11.56 at the Weldon Moe Moore Relays. In addition to his 100M event, Johnson also recorded a personal record of 47'1 in shot put.
[TWEET]840683948908851200[/TWEET]
Johnson told CanesInSight he still has more in the tank, too.
"It was a slow one for me," Johnson said. "Next week I'll be back at 100%."
He added that he believes he can get down to 10.9 in the 100M.
Defensive line coach Craig Kuligowski discussed Johnson's recruitment on signing day with CanesInSight.
"I got a call at some point early in the spring. This guy calls me lie six times and we couldn't call him back so I texted him and we were allowed to text. He texted me back and said 'I'm DJ Johnson, I'm the number one defensive end in the country and I'm interested in the Canes," Kuligowski explained.
"I told him to send me his HUDL film. I watched it and was like 'wow I really like this guy and can see why he has all these offers'. We started talking more frequently. That kid chose this school because of its history of putting guys in the NFL, winning national championships -- he definitely chose this place because it is Miami and they are the Canes. I was just happy that he felt the same way about us as we did about him."
"Maybe he'll be a bigger defensive end, but I don't think he'll move inside," Kuligowski said.