Top JUCO CB Dean has Miami ties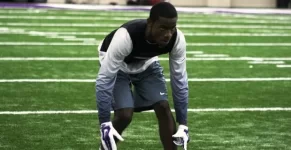 Miami is after one of the top junior college cornerbacks in the country, Jhavonte Dean. The 6-2, 180-pound CB is originally from Homestead, Florida and graduated from South Dade high school in 2015 where he won a state title. Now at Blinn JUCO in Texas, he is on his way to an even bigger school.
Dean signed with Cincinnati a year and a half ago, but was not able to qualify directly out of high school. It turned out to be a blessing in disguise though, as Dean has blossomed into a highly coveted cornerback target for some top programs.
"Coming out of high school, I was supposed to go to Cincinnati, but my SAT scores didn't meet the requirements. The DB coach there ended up placing me here," said Dean.
"It humbled me a lot because I was not heavily recruited when I was in high school and now that big schools are interested in me, it's big ups to me and it humbles me. If it wasn't for my DB coach at Cincinnati, I don't know where I'd be."
Alabama, Florida, and Miami have all offered Dean. That has not changed his fiber as a player.
"I've never been a talker. You'll never find me talking to a receiver after a play or bragging because that could get taken away in a second with an injury or something. I just like to play ball."
Dean was reluctant to name any favorites in his recruitment even though he said he plans on committing in September.
"As of now, all schools are recruiting me so it's tough to give you a top list or anything like that. I'm still doing the research on the schools that can help me grow as a player on-and-off the field," said Dean.
There is one factor that definitely sticks out above all to the speedy corner from down south.
"To be honest, I probably look at the depth chart situation every other day because I'm so concerned with what I have in front of me. I need to know who is leaving and all of that. That will be a big thing for me to come in and play right away because I'm a JUCO player and I need to be able to play right away."
Miami does have something in their favor being the hometown school. There are a few guys at Miami that he knows very well.
"Cedrick Wright, Joseph Jackson, and Dionte Mullins…we were all teammates with the Florida City Razorbacks back in the day so we all know how each other play," said Dean.
Dean is still in the process of connecting with the Canes coaches, as Miami offered only a couple weeks back.
"Coach Baez was the one who called me and told me about the offer, so hopefully I can get to know the DB coaches a little better over there," he said.
"Obviously things didn't work out when Al Golden was the coach and he got the boot, but I know that Mark Richt came from a winning program from Georgia and you can see that he knows what he's doing. I'm with what he's doing to get Miami back on track and get them with some Ws again this season," said Dean.
Dean also called recent 2018 Miami commit D.J. Ivey, "his little brother". Ivey goes to South Dade, which is where Dean went.