The Work: Spring HS Scrimmages Day One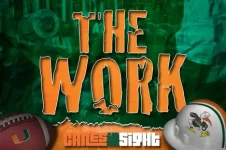 This afternoon I attended the South Florida High School scrimmages at FIU, an event put on by NFL Senior Director of officiating Al Riveron. There were 5-6 games going on at all times so it is possible that I missed some kids worthy of being talked about, but here are my observations from the event. More content will be coming over the next couple days. Deerfield Beach, Miramar, Southridge, Killian, Monarch, and others will be there tomorrow morning for Day 2.
Columbus
**I came away very, very impressed from what I saw out of Columbus, especially on the defensive side of the ball.
**2016 Miami commit Josh Uche is first of all a very good kid. I will have a full interview up with him over the next few days, but Columbus defensive coordinator Alex Trujillo was absolutely raving to me about the kid's work ethic and attitude. I caught the same vibe when I spoke with him afterwards.
**Uche has gained 18 pounds in the last couple of months and he is at 6-2, 217 right now. He has the frame to hold a lot more weight and his father is about 6-5 so it is highly possible that he continues to grow.
**2016 CB Trajan Bandy is small, but can really cover and is a ball of explosiveness. He has a lot of interest in Miami, but he's just not what they are looking for. Ideal nickel corner.
**2017 CB Marlin Brooks is one to watch. He is the son of former Cane Nate Brooks so the bloodlines are strong.
**2018 CB Joshua Jobe might have been the most physically impressive player on the field. He is a freshman, but I was told he is older than his class so I don't think he will be able to play all four years. Jobe is already 6-1 and flies. Columbus DC Alex Trujillo told me that he compares to a young Deon Bush. He is still learning the nuances of the position, but Miami is already on him hard and he is big on the Canes. Full story coming with him.
**2016 LB Bryce Handy was laying the wood all afternoon. He is the son of Darren Handy, who played center at Miami in the 80s. Handy has good size at about 6-1, 220 and plays downhill. Will be a good get for a mid-level BCS program.
**This next name will get some people very excited and/or very upset if you are a Miami fan. 2017 LB Guy Thomas, who is the younger brother of Booker T. Washington legend and current FSU linebacker Matthew Thomas, is just a freak. "Wow" was the first word that came to mind when I saw him lining up with his hand in the ground because he is already about 6-4 and has not even scratched the surface of his ability. Him and Uche should form an incredible tandem off the edge.
**Offensively, I am a fan of 2017 QB Alex Ros. He gives the Explorers a running dimension from that spot and throws a nice spiral.
Hallandale
**Miami CB commit Deion Jackson has 1st round pick written all over him if developed properly at the next level. Jackson looks like your prototypical 6-2 lengthy and smooth man corner and I see him playing early and often as a Hurricane if he stays committed. He was getting physical at the line of scrimmage today.
**I have always been a fan of 2016 QB Tyler Huntley (FAU commit) and he continued to show me why I like him so much today. He stands at about 6-2, has a smooth release, and commands a nice presence in the pocket. Has the athletic ability to extend the play as well. I really see some big offers coming his way over the next few months.
**Miami RB/FB commit Zack Moss recently transferred in to Hallandale from Mater Academy. He did not get too many touches today, but you can see why Miami offered as a guy who can be a bowling ball. He has a shorter, but compact build and nice hands. I like his versatility in a big class like this one.
Carol City
**"CC Zoo" was resting most of their star players so it was tough to get a read on them as a team, but they are loaded with talent across the board.
**2017 LB DeAndre Wilder already holds offers from the likes of Bama, UF, FSU, and Miami, but the Canes lead for him. Miami is trying to make a push for him to commit and I got the sense that he will do that eventually. I have a full story coming with him, but on the field he is a rangy, twitchy, versatile player standing at 6-2, 200 right now. He runs a 10.8 in the 100 M. Huge fan of his upside and aggression.
**2017 KeVaughn Dingle is a Miami lean at the moment as well. Wilder said that him and Dingle are extremely close and grew up together. That would be a nice duo for the Canes to snag early.
**2016 WR Steven Newbold was not in attendance today, as a team source told me that he was suspended for "conduct detrimental to the team".
**A couple other young ones to keep an eye on –
2018 RB Cam Davis
2017 ATH Ethinic Sands, Jr. (yup)
2018 DE/OT Leonard Lucas, Jr.
Coral Gables
**Gables offense looked sloppy early, but once they settled in I was impressed with 2016 QB Voshon "Bubba" Waiters. He can really sling it with some velocity.
**2018 Safety Gilbert Frierson will be a highly recruited prospect. He did not play today because of a leg injury, but he is already receiving major hype. Comes from a strong family as his brothers all played college football.
**The linebackers group s very strong between 2016 Shakur Cooper and Gee Stanley. Both are mid-level BCS guys without true positions but play the game hard and have good frames.
Flanagan
**I've been touting Kato Nelson's arm talent since his days at Champagnat Catholic and it is great to see him growing into his body. He is at 6-2 right now and looks more and more like a Division-1 QB. His mechanics are still raw, but he has physical traits that you can't teach. Cincinnati leads and that would be a good spot for him. I'm interested to see if more interest arises after he will probably put up some eye-popping numbers this year on a loaded Flanagan squad.
**2016 LB Devin Bush is an FSU lean, and he will be a good one. Bush is thick and shows great tackling ability. You can tell that he is receiving quality coaching.
**Miami 2016 commit Devin Gil was out with a right hand injury, but he looks more and more like a linebacker with his size. He also plays safety for the "Dirty Birds". His role at Miami could be intriguing because he has a knack for being around the football.