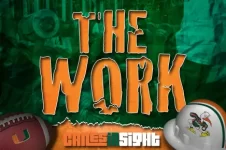 **On Tim Irvin – the former Westminster Christian School product announced yesterday that he was transferring from Auburn. This is something Irvin has been considering for a while, as his plan was to play out the spring and make his final decision. He made it official yesterday. Remember, Miami was recruiting him in the 2015 class before he committed to Texas at the Army All-American game before ultimately enrolling at Auburn. Irvin is back home in Miami, but the word that I've received is that the Canes will not pursue him. Irvin is a talent, but Miami is targeting bigger safeties over the next couple classes and they would rather have scholarships for prospects in the 2017 and 2018 classes. A source close to Tim told me that he even placed a call to family member Michael Irvin to check on his chances about receiving a Miami offer. There is a report out that Tim would visit Miami campus today, but that is false per a source within the program. My best guess is that he will wind up at East Carolina, where his uncle Sedrick is working in a recruiting role.
**The Canes got a big commitment on Saturday in Deejay Dallas, one of Coach Richt's favorites in this class. Alabama was in Dallas' final five and I've read some comments over the past few days questioning whether or not the Crimson Tide were actually recruiting him. I spoke to an Alabama source who told me that not only do they want Dallas, but he is one of their most coveted recruits this cycle. 'Bama will continue to recruit Dallas until the end and they believe it will be a battle. Miami, on the other hand, is confident that Dallas will stick. He communicated to Richt last night that he is extremely solid in his commitment. I don't see Dallas as the type to flip, either. The story here is that Richt went head-to-head with Saban and won.
**Speaking of Alabama, Miami's most high-profile recruiting battle this cycle will be for wide receiver Jerry Jeudy of Deerfield Beach HS. 'Bama believes they have the edge right now because they've been on Jeudy longer than this Canes staff. The Miami thinks they've closed the gap though. The common belief from both sides is that this will go down to the wire. Jeudy is the type of elite local talent (Dalvin Cook, Sony Michel, Amari Cooper, Alex Collins) that Miami has missed out on and this would be a signal that the Canes are ready to compete with the big dogs.
**Miami fans have been clamoring for the staff to go after Columbus CB Trajan Bandy for more than a year now. Up to this point, the Canes have not made a run at Bandy but that is not out of the question. A source at Miami told me that the staff is still evaluating Bandy. Although his stature might be what is holding them back from making an aggressive push for him, there are plenty of things the coaches love about him, especially his playmaking ability. There is no guarantee that an offer comes for Bandy, but if it does then look for the Canes to jump right into the picture for him.
**Josh Jobe is one of the most talented defensive backs in the country, regardless of class. The 2018 Columbus prospect is committed to Miami and has drawn comparisons to 2012 Columbus grad Deon Bush from his high school coaches. Due to age restrictions though, this upcoming season will be Jobe's final year playing high school football according to multiple sources at Columbus. Technically, Jobe should actually be a 2016 kid. What are his options? The first would be that he tries to reclassify to 2017, which has been thrown around as a possibility but Miami believes that is unlikely right now because there are a couple years worth of course work that would need to be completed in about a year, but it is not completely out of the question. The other possibility would be that he sits out his senior year and focuses on his class work. Miami would obviously prefer that he attempt to reclassify because he is an elite prospect, but again that would require immediate action on his part.
**Miami DB commit Nick Roberts is a tremendous athlete and a nice prospect, but Miami feels like they are sitting in good position with players higher on their board. The communication between the two sides has not been steady and I foresee a decommitment in the near future.
**After turning down the opportunity to recruit JC Jackson, Canes fans have wondered if there is something in the works as far as a possible transfer cornerback who could play this season. Adrian Colbert, the transfer from Texas, will play corner primarily at Miami. I'm told that the Canes have been open to adding another, but that no names have emerged so at this point it is very unlikely. It would need to be a player eligible this season.
**Miami RB commit Robert Burns (Gulliver) sat out spring practice recovering from a shoulder injury. He is expected to be back at full strength in time for his season.