The Work - Junior Day Edition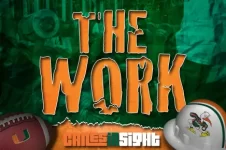 **Today was Miami's first junior day under Mark Richt. Check here for a list of visitors and general updates from the day (shoutout to [MENTION=8971]Geo305[/MENTION] and [MENTION=10499]ErickMarreroU[/MENTION] for their work) -
https://www.canesinsight.com/thread/february-20th-junior-day-attendees/97492/15
- This edition of the work will focus on insider's notes from today's happenings.
**Potentially the biggest development from today is Miami making an extremely positive move with Daytona Mainland Safety Cyrus F'agan, who is the
#2
safety in the country according to 247. F'agan made the trip for junior day with both of his parents. Not only were F'agan and his family there for the day, but they also stayed afterwards for the baseball game with Safeties Coach Ephraim Banda. The Canes believe that this visit has moved them right near the top for F'agan.
**Miami is the frontrunner for Palm Beach Gardens safety Amari Carter and today only strengthened their chances. Commitment watch looming.
**Mater Academy CB Latavious Brini was offered by Miami last week and I mentioned it would be a battle for him. Brini was up in Tallahassee this weekend but will be on Miami's campus this upcoming Thursday with his parents. Canes feeling confident here and that would be a huge pickup. Brini has the length that this staff is looking for. Banda is on him hard.
--Sidenote: Banda is absolutely killing it from what I've been told. He is a star on this staff from a recruiting standpoint.
**Norland Offensive Tackle Kadeem Telfort is currently a UF commit, but was previously committed to the Canes. He was on campus today and Miami believes that they are right in the thick of things for him. A flip would not surprise me. Telfort is a top priority for OL Coach Stacy Searels.
**Kathleen LB Ventrell Miller is a big target for the Canes right now. The defensive staff absolutely loves him. In a year that linebacker numbers will be small, Miller is a take for Miami and they like their chances after today.
**N'Kosi Perry decommitted from Miami a couple weeks ago, but he is the top target by far at the quarterback position right now. Mark Richt is a huge believer in Perry, so that should silence some talk that the new staff dropped Perry. Let me make that clear – Perry is one of the top prospects on Miami's board for 2017 – all positions included.
**STA WR Trevon Grimes was in attendance for today's junior day. Ohio State is the favorite, but Miami will not go down without a fight and it is important to note that Grimes is listening – this is not a one-way thing.
**This next sentence should be music to Canes fans ears. The defensive board consists solely of prospects from the state of Florida. Manny Diaz is making it an absolute priority to recruit Dade, Broward, and Palm Beach before all else. He does not want to have to look out of the state for kids. Now does that mean there won't wind up being an out of state signee in this class? Of course not, but this is the philosophy that Canes fans and even outsiders have suggested should be used for years.