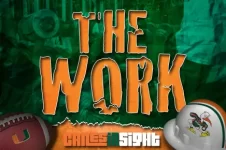 Jeff Thomas - Announcing Wednesday 10AM on ESPNU
In what should be good exposure for Mark Richt and the Canes on signing day, Thomas will announce his decision his decision live on ESPNU from his school. Thomas was Miami's to lose heading into the weekend and the fact that he cancelled his Oregon OV is even more of a signal that the Canes are in good shape. The last wide receiver to pick Miami on ESPNU? Stacy Coley.
Mike Harley - Announcing Wednesday 10:15 AM on CBS Sports' National Signing Day Special
Harley to Miami is the worst-kept secret out there at this point, but it's another nationally-televised announced which Richt has to love. The speed that him and Thomas would bring is just what the doctor ordered.
C.J. Henderson - Announcing Noon Wednesday at Columbus - CanesInSight will be live on-site
Everything that I've heard with Henderson points to him signing with Miami on signing day. Late last week, sources said that the Columbus speedster had informed all staffs recruiting him (Miami, UF, Alabama) of his decision. A source close to Henderson told me last that nothing had changed since then and unless something changes, it will be the Hurricanes. This could end up being the biggest snag for Miami down the stretch just based on the battle itself. Not only were the Gators in the lead for a substantial portion of time, but this is a guy who Nick Saban wanted badly at cornerback.
Brian Edwards - Announcing Wednesday at Miramar (Time TBD) - CanesInSight will be live on-site
Edwards went through with his scheduled visit to UF this weekend, but Miami is still in position to land his signature come Wednesday morning. Not only is his family fully on-board with the Hurricanes, but the combined recruiting effort of Mike Rumph and Ephraim Banda won Edwards over last week, according to sources. Florida is not confident on their chances either. Side note: Miami loved Edwards' attitude and demeanor on the official visit last weekend and defensive coaches believe he will see the field early and often next season.
Jhavonte Dean - Announcing Wednesday and Blinn Junior College (Time TBD)
Dean has been a heavy Canes lean since early December and nothing has changed. Anything other than Miami would be a surprise for the south Florida native.
Jordan Pouncey - Announcing Wednesday via commitment video on Twitter (Time TBD)
The latest buzz here has been Texas and I'm not sure this is a decision that Canes coaches will lose much sleep over. It does not appear that he has been a priority for the staff and they are satisfied with a receivers class of Evidence Njoku, Thomas, and Harley.